(App) Avakin Life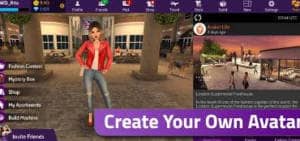 App Description :
Start a life without limits in Avakin Life now!
Discover unlimited ways to be you. Enter a virtual world of endless opportunities, a wardrobe packed with the latest fashion, your dream home in every location imaginable, and new adventures, parties and events happening every day!
This is YOUR life as you want to live it. A world where self-expression is boundless. A virtual universe connecting people from everywhere around the world. Don't wait to experience unlimited ways to be you!
App Features :
Create an avatar as unique as YOU
Decide how to represent yourself. A reflection of reality or your wildest dreams?
Customise your look with thousands of hairstyles, make-up, and facial features.
Express your personality with animations. Walk like a zombie or strut like a model – you decide.
Define your style.
Stay ahead of trends with weekly fashion drops.
Whatever your aesthetic, whatever the occasion, create a look that suits you with 30k+ fashion items.
Make a statement with head-turning accessories from cute hats to beautiful wings.
Dress to impress in red-carpet glamour, style with attitude in streetwear 'fits, or make a statement in alternative fashion. Experiment and discover your unique style!
Share your style and snap pics for Facebook and Instagram.
Build your dream home.
From tropical islands to city penthouses, the home of your dreams is waiting to be discovered.
Scandi chic or vamp lair? Decorate to your tastes with themed furniture collections.
Create a home for your pet whether it's a cute corgi or fierce dragon?
Host parties with all your friends or create the perfect night in. Your place, your rules!
Meet new friends.
Whether you'd rather go on a cottagecore picnic or spend Saturday night at the rock club, hang out and chat with new friends in hundreds of amazing locations.
Find your virtual family and make lasting friendships in our welcoming community.
Join the community.
Share your looks and win prizes in the Fashion Contest.
Participate together in weekly events and collect unique rewards.
Attend parties, live music, and club events every night.
Create videos and photos and share your creativity with other Avakins.
Begin your adventure.
Explore with no limits. Travel to outer space, road trip across the USA or relax in the Amazon rainforest.
Live your roleplay life in epic locations with endless costume and animation options.
Get involved in gripping stories. Join the community to unpack mysteries and complete quests for unique rewards.
Follow us at
Twitter @LockwoodLKWD
facebook.com/AvakinOfficial/
Instagram @avakinofficial
TikTok @avakinlife_officia
Additional Information :
Size 269.1 MB
Requires iOS 11.0 or later.
User Reviews :
New ideas
I love playing this game don't get me wrong but there are a few things that would be nice to add or readjust. First, it'll be nice to not have any limitations on when furnitures are "too close" and that there is also limitations on how much we are allowed to have. Second, we are only allowed to have 6 people over to our house/apartment, it'll be really nice to have more people. Been trying to throw a party and invite over the amazing friends that I have befriended, but only limited to 6 people only. Third, interactions are hard enough to make it look believable if you are in a relationship, especially if you are trying to take a cute profile pic. So it'll be nice to have interactions for couples and anyone looking to get into one. Fourth, the clothes are nice but there are certain clothes that make it overlap really terribly so it makes it hard to get a good outfit. Also it'll be nice if the men's had more options then making them look all alike. And last but surely not least, there has got to be a better way to organize furniture and apartments/houses. What I mean by that is there has got to be an easier way to find the furnitures you need or want to use when designing your home. As for houses/apartments there has to be some way where we can have favorites set so it'll be easier to access instead of looking through all of the places that you have. Other than that I really do enjoy playing it's been great so far.
Awesome!!! But…
Don't get me wrong I really love this app but yall should really Add some adjustments like there's so much you can do in this game , there's so much we would like to do in this game like for example have a family with your significant other , have babies , we should also be able to share a house with whoever you want for example if I have a house that my friend doesn't have and i'm not online on the game that person has permission to join that house …like sharing the house , also more accessories like piercings and stuff we have a lot of tattoos but we don't have things like earrings and nose rings and all that kind of stuff … but back to what I said before us female avakins should be able to have kids and start a little family with the males …y'all can also add more places like real life places like the movies , the zoo, fancy restaurants, waterparks , all that good stuff …Last but not least THE INTERACTIONS yall are putting interactions for high prices and there not even that interesting we would like to take pictures with our significant others to make it look like we are in a actual relationship…how about a kissing interaction or a cuddling interaction …All i'm saying is avakin life should be REAL LIFE what happens in the real world …OTHER then that I love this game just please add more real life stuff , I know we would really appreciate it
Get Avakin Life from App Store
What is your opinion about Avakin Life
Bitcoin
Ethereum
MetaMask (ETH)
Xrp
Polkadot
Binance coin
Stellar
Dogecoin
Tron
Elrond
Donate Bitcoin to this address
Scan the QR code or copy the address below into your wallet to send some Bitcoin
Donate Ethereum to this address
Scan the QR code or copy the address below into your wallet to send some Ethereum
Donate Xrp to this address
Scan the QR code or copy the address below into your wallet to send some Xrp
Donate Polkadot to this address
Scan the QR code or copy the address below into your wallet to send some Polkadot
Donate Binance coin to this address
Scan the QR code or copy the address below into your wallet to send some Binance coin
Donate Stellar to this address
Scan the QR code or copy the address below into your wallet to send some Stellar
Donate Dogecoin to this address
Scan the QR code or copy the address below into your wallet to send some Dogecoin
Donate Tron to this address
Scan the QR code or copy the address below into your wallet to send some Tron
Donate Elrond to this address
Scan the QR code or copy the address below into your wallet to send some Elrond