(Game) AlphaBetty Sag‪a
 free games for iphone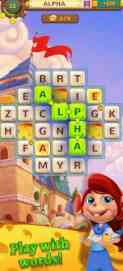 Game Description :
AlphaBetty – a fun, new word game from the makers of Candy Crush Saga and Farm Heroes Saga – King's first, social, mobile word game!
Challenge your skills in a brand new word game that will take you on a rip-roaring adventure to the far-flung corners of the mouse world! Join Professor Alpha, Betty and their loyal friend Barney as they embark on an epic quest to collect new words and complete the Encyclopedia of Everything!
Journey to exotic lands in this top new word game and puzzle your way through over 700 cheesetastic levels of letter-linking fun!
Collect special characters on your travels to help you along the way, but watch out for those mousetraps and creeping vines!
Play on your own or take on your friends to see who can get the highest score in the best game to ever ignite your word skills!
Are you ready? Let the adventure begin!
AlphaBetty Saga is completely free to play, but some in-game items such as extra moves or lives will require payment.
You can turn off the payment feature by disabling in-app purchases in your iPhone or iPad's settings.
Game Features :
Think you know word games? Then think again! AlphaBetty Saga features:
Link letters in any direction – up, down, diagonally, in fact, any way you want – even multiple directions!
Bright and colorful graphics that will transport you to the far reaches of the mouse world
Three intrepid explorers on an epic journey
Powerful boosters to help you crack challenging levels
Unlock boosters and unique characters with special abilities to help you along the way
Easy and fun to play, challenging to master
Over 700 cheesetastic levels of letter-linking fun!
Play your way – long words or short words, race through levels or take your time, impress your friends or play by yourself, quick fun or leisurely indulgence – you choose.
Leaderboards to follow your friends and competitors' progress! Give lives, add friends and see your friends' progress on the map in game.
Easily sync the game between devices and unlock full game features when connected to the internet
If you love word searches, crosswords, puzzles and sudoku, download the AlphaBetty Saga app and discover a new way to word play!
Do not sell my data: King shares your personal information with advertising partners to personalize ads. Learn more at https://king.com/privacyPolicy. If you wish to exercise your Do Not Sell My Data rights, you can do so by contacting us via the in game help centre or by going to soporto.king.com/
Already a fan of AlphaBetty Saga? Like us on Facebook or follow us on Twitter for the latest news:
twitter.com/alphabettysaga
www.facebook.com/alphabettysaga
Last but not least, a big THANK YOU goes out to everyone who has played AlphaBetty Saga!
Additional Information :
Size 176.8 MB
Requires iOS 9.0 or later.
User Reviews :
My favorite word game
I enjoy this game a lot. Unfortunately I have solved all the levels and now have to wait for new levels to come out. I do think King is doing better with recent levels in making them difficult but not impossible. I do have two complaints. The crowns appear to be reconciled prior to the effects of blasters. Hence you can have two bubbles left on your final move and play a word that contains a crown and a blaster that is aimed at a bubble. One would think that this would result in completing the game. But it often doesn't. The only explanation other than a bug is that the crown takes out the bubble that the blaster was going to get and the other bubble is left intact. Very frustrating as it makes the outcome of a move unpredictable. My other complaint is that some levels are virtually impossible to get three stars on no matter how well one plays. I have 3 stars on all the games except for 3 or 4 of them. No matter how many times I play the 2 star games that remain I can't get to three stars. Very frustrating. But I can't complain too much as I really do enjoy the game.
My go-to word game
What I like most is how no puzzle is ever the same, always random, so no real way to cheat. Some levels I pass first try, no prob, but some have taken weeks to figure out strategies and hope for good letters! So satisfying to pass those levels at last. I'm at level 518 at this writing. Probably had the app a good year plus. Seen minor changes but nothing too annoying. And I've never purchased rewards, so it's possible to get through with the occasional strategic use of a built-up reward or without! And the art and such is so fun. On the more administrative side, the few times I've gone searching for answers, i mostly find forums or other such postings. Seems there's not much of a presence for game explanation but also I just haven't sought that out much. My problems are usually addressed in updates, and my questions aren't burning enough for me to go looking for answers usually. Anyway, love the randomly generated challenges!
Get AlphaBetty Sag‪a from App Store
What is your opinion about AlphaBetty Sag‪a
Bitcoin
Ethereum
MetaMask (ETH)
Xrp
Polkadot
Binance coin
Stellar
Dogecoin
Tron
Elrond
Donate Bitcoin to this address
Scan the QR code or copy the address below into your wallet to send some Bitcoin
Donate Ethereum to this address
Scan the QR code or copy the address below into your wallet to send some Ethereum
Donate Xrp to this address
Scan the QR code or copy the address below into your wallet to send some Xrp
Donate Polkadot to this address
Scan the QR code or copy the address below into your wallet to send some Polkadot
Donate Binance coin to this address
Scan the QR code or copy the address below into your wallet to send some Binance coin
Donate Stellar to this address
Scan the QR code or copy the address below into your wallet to send some Stellar
Donate Dogecoin to this address
Scan the QR code or copy the address below into your wallet to send some Dogecoin
Donate Tron to this address
Scan the QR code or copy the address below into your wallet to send some Tron
Donate Elrond to this address
Scan the QR code or copy the address below into your wallet to send some Elrond