(Game) AI Dungeon
 iphone games download free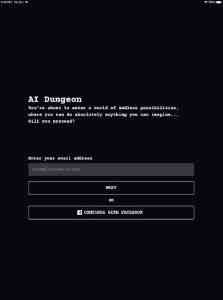 Game Description :
Imagine a world that you could explore infinitely, continually finding an endless amount of entirely new content and adventures.
Game Features :
What if you could also choose any action you can think of instead of being limited by the imagination of the developers who created the game?
This is AI Dungeon.
Any action you take, anything you choose to say, anywhere you choose to go, in any time period you want to play – there's an infinite number of adventures waiting.
AI Dungeon is the first limitless text adventure game of its kind built with extremely advanced artificial intelligence using a massive deep neural network at its core.
Additional Information :
Size 13.1 MB
Requires iOS 12.0 or later.
Compatible with iPhone, iPad, and iPod touch.
User Reviews :
Infinite fun
Before I start I want to point out that I've actually only ever played the Knight story in the Fantasy setting. This being said, I've still played this game for hours upon hours! It's just so fun! The ai has so many different events at its disposal that in the many hours I've spent playing, I've never once seen the same event twice, aside from the beginning. The main story is always the same. Although you really don't need to do the story. I've had the most fun just going out and doing whatever path the random events set me on.

I will say the game isn't perfect. Like I said I've only played the fantasy story, which is of course a medieval setting, but sometimes the ai seems to forget this and tells me I found a shotgun or a rifle. Sometimes in the middle of a fight it'll say I pull out a gun and shoot whatever I'm fighting. Another problem is the ai having characters you've never met apparently with you and talking to you. One of the more absurd examples I've had is, after killing a werewolf, my mom started talking to me. There was no mention of her, I had never met them, let alone brought them with me. All of this is pretty uncommon but it can throw off your immersion and sometimes be a bit annoying. All in all I won't complain too much because the devs are constantly updating and improving the game, so I'm sure they'll fix it.
It's great but…
It's a great app and you can pretty much do whatever you want but…it logged me out of my account and I had to make another one which made me really upset because I had lots of stories on that account and even though I made another account it still logs me out sometimes…It's really not that big of a deal that I had to make another account but I still think it's a problem that it just randomly logged me out…I don't really know what happened but I was deleting a bunch of lines from my story and then I just exited out of the app and then I came back in and it logged me out..so like does it just randomly do that? Or is it just a glitch?…or maybe I accidentally hit the log out button when I was exiting the app. Other than me complaining it's really an awesome app and it updates a lot so I guess I should've expected it to log me out since it updates a lot but it's kinda annoying that it still logs me out sometimes after I leave. I still really like the app and It was kind of my fault since I didn't write my account information down. Anyways I still really love AI Dungeon a lot and I hope you have a nice day!
A Few Small Faulty Wires
The game can be very creative, but only if you work with the given genres. Genres like romance and general horror or thiller, or genres containing existential issues need a lot of clarity. And although the /remember tool is useful you need to use it a lot initially to keep the rules of the game consistent. But even then the game may forget it completely or force the rules onto the game so hard that personalities and events are unable to be changed. It isn't like you can use /remember like a switch. Sometime the A.I. will completely not use key elements you used in the plot initiation. Another annoyance is that the game will interpret the proper grammar usage of "me, mine, my, etc." as a new character which makes it feel like your talking to the game engine, completely disrupting any immersion. Despite this, the A.I. can be fairly creative if your vocabulary is expansive. And the potential and sheer amount of unique responses from the engine outcompetes any other app or game in this market. And third person pronoun usage is almost always correctly connected to the antecedents. Fixing the game to make it understand both complex and casual grammar and sentence structure is my general request/tip, but so far the only issues I've found have been very minor, though they produce a complex web of issues to the players. Honestly, the best thing about this app is that it's free without any advertisements.
Get AI Dungeon from App Store
What is your opinion about AI Dungeon
Get more free apps & games daily
Subscribe to our mailing list and get free apps & games daily to your email inbox.
Thank you for subscribing.
Something went wrong.
Bitcoin
Ethereum
MetaMask
Xrp
Polkadot
Binance coin
Stellar
Dogecoin
Tron
Elrond
Donate Bitcoin to this address
Scan the QR code or copy the address below into your wallet to send some Bitcoin
Donate Ethereum to this address
Scan the QR code or copy the address below into your wallet to send some Ethereum
Donate Xrp to this address
Scan the QR code or copy the address below into your wallet to send some Xrp
Donate Polkadot to this address
Scan the QR code or copy the address below into your wallet to send some Polkadot
Donate Binance coin to this address
Scan the QR code or copy the address below into your wallet to send some Binance coin
Donate Stellar to this address
Scan the QR code or copy the address below into your wallet to send some Stellar
Donate Dogecoin to this address
Scan the QR code or copy the address below into your wallet to send some Dogecoin
Donate Tron to this address
Scan the QR code or copy the address below into your wallet to send some Tron
Donate Elrond to this address
Scan the QR code or copy the address below into your wallet to send some Elrond