(Game) Ace Attorney Trilogy HD
 iphone games download free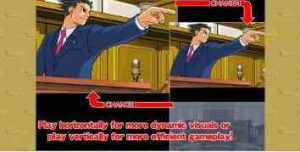 Game Description :
Defend the innocent and save the day! Experience the original trilogy in clear, retina-quality HD graphics, and choose to play horizontally for larger backgrounds or vertically for one-handed ease!
Phoenix Wright: Ace Attorney Trilogy HD" includes "Phoenix Wright: Ace Attorney", Phoenix Wright: Ace Attorney – Justice For All, and "Phoenix Wright: Ace Attorney – Trials and Tribulations". Each of these three games can be purchased separately or all together in one bundle.
You can even play the first two episodes of "Phoenix Wright: Ace Attorney" for free!
Game Features :
Game Overview
Join rookie lawyer Phoenix Wright in his quest to defend the innocent and find the truth behind 14 exciting cases!
Investigation Sections
Prepare for your epic courtroom showdowns by investigating crime scenes, collecting evidence, and questioning witnesses.
Courtroom Sections
Use evidence and witness testimonies to your advantage as you battle to declare your clients innocent. Nothing less than a full acquittal will do in this court of law! Find the contradictions in witnesses' testimonies to expose the truth!
You can fast-forward through sections of dialogue by holding your finger on the Next Message" button.
The games contained within are based on the critically acclaimed games for the Nintendo DS.
Important Information
You cannot purchase individual episodes separately.
Additional Information :
Size 400.7 MB
Requires iOS 8.0 or later.
User Reviews :
It's pretty good and I want Godot to step on me
Judging by what I've been able to play so far, the AA games are great, each with a story and writing that, like a good novel, makes you want to see more. The characters are quirky and memorable, and Phoenix is a very likable and humorous main character. Character designs range from simple yet likable to being as over-the-top as a Jojo's villain and I love it. Everyone's different reactions to the events in the game are hilarious. really The only problem is that a lot of the time, you're left clicking aimlessly at random dialogue boxes and things in a room until you randomly select the option that progresses the story. Also, the HD sprites are really, *really* ugly, and some animations (particularly Edgeworth's bowing animation) are very choppy. It looks as though the only change the team made to the original games was smoothing out the old pixel art sprites so they could repackage they game as an HD title, but it doesn't ruin the game or anything. Overall, these seem like pretty cool games and my only regret is being too poor to buy the full games.
Great Game, Slightly Buggy Port
Let me begin by saying that this collection is amazing. The amount of content in the first game alone feels worth the whole price so having two more games after that is just incredible. The story is excellent, the characters are memorable, the pace and tension-building are top notch, and the gameplay can be quite fun. I would highly recommend this game on this or any other platform based on content alone.

As for the iOS port specifically, it's a bit buggy. Sound effects (and occasionally even music) like to disappear without warning or reason and won't come back until the app is completely reset. The music track sometimes doubles up and won't reset to normal until you exit and re-enter the app. The screen rotation occasionally gets locked and won't unlock until the app is reset. Lastly, though it's not a bug as far as I can tell, the game doesn't actually change the real screen rotation no matter how you hold your device. The game looks like it's horizontal, for instance, but normal phone controls like the notifications menu are all vertically oriented at all times. This can be annoying occasionally and is a truly strange design choice.

Overall, the convenience of having these games on the go is well worth the bugs, but I hope that someday this game gets patched so that it's a bit more stable. Well worth the purchase, regardless. After playing the first two trials for free, I was hooked and never looked back.
Great!…Now What?
I haven't bought anything but this has definitely won me over in terms of how much I enjoy this. If they cleaned up the menu a bit and fixed a bug where I can be guaranteed sound without any Bluetooth device when I disconnect said device in game, that would be great. I suppose I use my speaker and headphones mostly though so no skin off my nose. As far as purchases, I'm not sure I can pull seventeen bucks right now, and saving three bucks sounds nice if I buy the whole trilogy because I might buy the whole thing anyway. BUT as far as the initial game it's conceivable that I can pull of 20 bucks at l a later date gradually over time, so then the only question is whether the original ace attorney game is worth it with only three episodes left for six bucks, a 2$:1 episode ratio. I suppose what would determine THAT is the amount of trials held in court each episode, yet just knowing that would spoil story.

As to reiterate on above, I'm also trying to buy a Fire Emblem, (not that shameful excuse of an app,) or Splatoon 2, a new 3ds xl, and Switch online services, not to mention Luigi's Mansion or bowsers inside story for 3ds. So it's conceivable that I wouldn't get back to buying the trilogy.

Ergo, () my indecisiveness. I'll ask a fan who's knowledgeable about this. In a way, this is a problem that one can love to have.
Get Ace Attorney Trilogy HD from App Store
What is your opinion about Ace Attorney Trilogy HD
Bitcoin
Ethereum
MetaMask (ETH)
Xrp
Polkadot
Binance coin
Stellar
Dogecoin
Tron
Elrond
Donate Bitcoin to this address
Scan the QR code or copy the address below into your wallet to send some Bitcoin
Donate Ethereum to this address
Scan the QR code or copy the address below into your wallet to send some Ethereum
Donate Xrp to this address
Scan the QR code or copy the address below into your wallet to send some Xrp
Donate Polkadot to this address
Scan the QR code or copy the address below into your wallet to send some Polkadot
Donate Binance coin to this address
Scan the QR code or copy the address below into your wallet to send some Binance coin
Donate Stellar to this address
Scan the QR code or copy the address below into your wallet to send some Stellar
Donate Dogecoin to this address
Scan the QR code or copy the address below into your wallet to send some Dogecoin
Donate Tron to this address
Scan the QR code or copy the address below into your wallet to send some Tron
Donate Elrond to this address
Scan the QR code or copy the address below into your wallet to send some Elrond