(Game) Zombie Highway
iphone games for free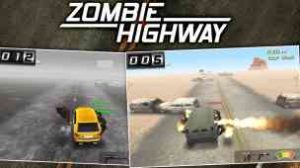 Game Description :
The goal is to survive… but you wont. How far will you go?
It's you, your heavily armed passenger, against a boatload of super-strong, leaping zombies.
Game Features :
TILT
Steer to avoid obstacles all while trying to SMASH latched on zombies into debris – OR – run them down before they can
jump on your car!
TAP
Shoot zombies with a growing arsenal of handguns, shotguns, and automatics. Shoot recently smashed zombies for extra damage!
REPEAT
Improve your skills, unlock weapons, beat all your friends on facebook! It will be hard to put this one down.
Cars. Guns. Zombies. What more could you want!?
Key features:
Crisp 3D graphics – **runs at full 960×640 Retina display on iPhone 4!**
Immersive CD Quality Audio
Highly Addicting, Highly polished gameplay
High Scores: Compete globally or against your friends Game Center!
Seamless Game Center integration for easy, addictive competition
16 Guns (and growing)
8 Levels in 3 Environments!
4 Cars!
8 Different kinds of jumping zombies!
Leaderboards for most kills and total miles
Additional Information :
Compatible with iPhone, iPad, and iPod touch.
Requires iOS 6.1 or later.
Size 44.9 MB
User Reviews :
First, it's not a huge file, so it won't eat up your storage.Second, it's hilarious.You're driving a car down a deserted road, and zombies are jumping on you as you drive by. And there are only 2 ways to get them off: shoot them, or knock them off by smashing your side up against an overturned car in your path.Car upgrades for driving a certain amount of accumulated miles (I currently have the Hummer), and weapons upgrades. Very cool game.
This is the most fun iOS game I've played in quite a while! Simple but challenging, clean graphics, gear upgrades, and even some strategy. Unfortunately, when I close the game & attempt to re-open it, it goes into hard crash mode, never getting past the gear select screens to actually race. I've been able to fix it a couple of times by deleting/re-installing the game. Keeping it open in the background (rather than fully closing the app) seems to work for awhile. Too bad, as this is such a great game. Will try ZH2, but really wanted to keep enjoying this one…if the dev fixes the issue with game-crashing, I would gladly change this to a 5-star rating!
There are problems for example I have a personal best on classic that is exactly 6.00 and I don't have a gold medal on classic and to get a new gun it said I need 0.00 total miles and I've tried playing again and I crashed at 1 mile and I still didn't get the gun and there is a glitch where if you turn really far into debris you go through it while zombies get hurt so please update and fix.
Get Zombie Highway from App Store
What is your opinion about Zombie Highway
Get more free apps & games daily
Subscribe to our mailing list and get free apps & games daily to your email inbox.
Thank you for subscribing.
Something went wrong.