[Game] Zombie Gunship Survival
iphone games for free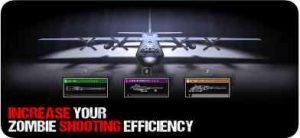 Game Description :
Survive a zombie apocalypse and protect the human race from the gunner seat of an AC-130 gunship! Engage in tactical operations and lead groups of military survivors on scavenging missions. Loot precious resources, bring them back to base and build your defenses to repel zombie assaults.
Blow up the undead in this new instalment in the #1 top-grossing Zombie Gunship franchise.
Game Features :
Experience high-definition visuals and intense scenarios
Collect realistic weaponry and increase your zombie shooting efficiency
Provide air support and lead groups of military survivors
Build up your remote airfield as a base for operations
Defend your base against zombie assaults
Survive in a hostile environment and unleash hellfire from your gunner seat!
Terms of Service:
By accessing or using a flaregames product, you're agreeing to our Terms of Service (www.flaregames.com/terms-service/).
Parental Guide:
Zombie Gunship Survival is free to download and play, however some game items can also be purchased for real money. If you don't want to use these features, please disable in-app purchases in your device settings. According to our Terms of Service, Zombie Gunship Survival is allowed for download and play only for persons 13 years or more of age, or with explicit parental consent. You can read more here:
www.flaregames.com/parents-guide/
Additional Information :
Compatible with iPhone, iPad, and iPod touch.
Requires iOS 9.0 or later.
Size 351.9 MB
User Reviews :
Was sure I reviewed this much earlier before but I'll say it again. This is a very fun zombie gunship styled game with a randomized reward system and upgrades based upon gathered resources. Much like Borderlands' or Diablo's random quality/rarity of item drops, a similar system exists in this but comes in the form of loot crates that take time to open (usually several hours even for the most common of crates). This is a system I don't much care for myself but it doesn't detract from the game much other than you're only allowed to open one crate at a time, or alternatively spend gold (real money) to open crates instantly. Upgrades for weapons require scarce materials that you will easily use up faster than you can accumulate, again with the option to spend gold to magically create more for yourself. So a good 3/4's of the game is spent grinding for diminishing returns on levels you can actually attempt. But if completing a level repeatedly at the same difficulty is where the grinding gets monotonously boring. But thankfully the levels are typically short and sweet. All in all, I enjoy this game quite a lot. Despite how it unintentionally restricts you with the difficulties (there's a massive difference in difficulty between 'easy' and 'medium' in my opinion), upgrade requirements and under powered weapon selection in the mid game: at the end of the day, it's fun as hell raining ordnance down on the shambling hordes
Get Zombie Gunship Survival from App Store
What is your opinion about Zombie Gunship Survival
Get more free apps & games daily
Subscribe to our mailing list and get free apps & games daily to your email inbox.
Thank you for subscribing.
Something went wrong.
Summary
Reviewer
Review Date
Reviewed Item
Author Rating