(App) Wedding Planner by The Knot
 free apps iphone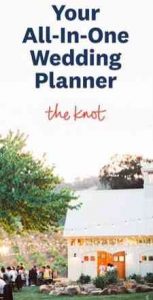 App Description :
Planning a wedding is now easier than ever thanks to The Knot app, the #1 all-in-one wedding planner in your pocket. With The Knot app, you can discover your wedding style, add and manage registries, explore 250,000 local vendors, stay organized, track your budget and more—from anywhere you are.
App Features :
Wedding Vision: Take the Style Quiz to get personalized style, colors and decor. Add photos from Pinterest, your phone or computer, then send to your list of recommended vendors in a click.
300,000 Wedding Vendors and Counting: Find local vendors and venues (including top-ranked Best of Weddings winners!) who can bring your Wedding Vision to life.
Wedding Guest List Manager: Upload spreadsheets, phone contacts and details, then sit back as we organize it all for you. Once everything is set up, RSVPs, meal choices and plus ones will update automatically. NEW: Set it and forget it. Set an RSVP deadline and we'll send reminders to the guests who need a little nudge.
Wedding Website: Choose from 150+ FREE, customizable Wedding Website templates to share day-of details, all things registry and quick-click RSVPs with friends and family.
All-In-One Registry: Create and update registries for your favorite stores, cash funds, experiences and charities—manage it all on The Knot.
Wedding Checklist: Add tasks that apply to your wedding, remove the ones that don't, then simply drag to put in the order that works best for you.
Wedding Day Timeline: Add vendors and complete to dos, and your timeline will auto-update so you and your guests always know where to be—and when.
Wedding Budgeter: Set your wedding expenses and we'll recommend budgets for your venue, attire, flowers and everything else you need for your wedding.
Wedding Countdown: Celebrate your engagement every step of the way. (Yay!)
Plan on Any Device: The Knot app syncs everything between your phone, computer and tablet.
The ultimate wedding planning tool, The Knot app lets you plan anytime, from anywhere. Chat with vendors on the spot and get notified as soon as they respond, manage guest lists, accept RSVPs, track meal choices, peek at gifts (only if you want!), update your Wedding Website and so much more. Need a little inspiration? The Knot app is also full of thousands of photos to flip through and share.
The Knot app includes:
Wedding Countdown Widget
Wedding Style Quiz
Photo-Sharing Capabilities
Personal Wedding Venue and Vendor Recommendations
Wedding Vendor Chat
Free Wedding Website
Wedding Guest List Organizer
Wedding Registry for Cash, Experiences, Items and Charities
Personalized Wedding Checklist
Wedding Budget Tracker
Wedding Day Timeline
The Knot Privacy Policy:
www.theknot.com/privacy-policy
The Knot Terms and Conditions:
www.theknot.com/terms-and-conditions
Do Not Sell My Info:
theknotww.zendesk.com/hc/en-us/requests/new?ticket_form_id=360000590371
Additional Information :
Compatible with iPhone, iPad, and iPod touch.
Requires iOS 11.0 or later.
Size 153.3 MB
User Reviews :
Planning a wedding of any size is no small feat! The Knot app has been stellar at offering comprehensive, user-friendly solutions for: additions or changes to the guest list, along with contact info and RSVP tracking; an easy-to-use budgeter where you can adjust costs and categories; a FREE customizable wedding website; an editable checklist/day-of timeline…I could go on and on! With the exception of building the wedding website, most of the app is very mobile-responsive and data can be entered right from your phone. The full range of features are available online from a larger device and the transition is seamless to the app. I also like how the vendor/affiliate listings are not constantly popping up as ads, but quick to find if you need suggestions or help. The crashes are rare but inconvenient—there was one point where the app wouldn't open for weeks, but I just went online to continue the planning process. If you don't have access to a larger device it may be a slight challenge to do things like embed the registries to the wedding website or export your guest list & contact info as a spreadsheet. Overall I'm loving the UX and everyone is amazed at how far ahead in the planning I am (still 4 months out) Thank you to The Knot for this great resource!!!
When I got engaged late last year, I was so excited but also my mind was going in different directions, "how do we start planning?", "when do we do this?", "do we do that?", etc etc. my fiancé and I were really naive about the whole planning department of our new journey, so (like I always do), I turned to Google. I simply typed in "wedding planning". There were LOADS of websites listed one after the other but there was one that caught my eye. I clicked on The Knot and the sign up was so simple, that's the first thing I liked about it. As soon as I signed up, which took seconds, I was relieved to notice that everything that has anything to do with a wedding or just engagement, it was all right there, already organized, all our job was- to look through each section and start picking what we liked! They have a section where they automatically count your guest list for you, to do lists for each little thing that has a due date already there for you, AND you get to be in contact with hopeful venues and get to book at the same time!!!! I really don't know where or how far along I'd be without The Knot, I started using the app on my phone and it's become my best wedding coordinator! I really cannot rave enough about this website! It really has changed the game!
Get Wedding Planner from App Store
What is your opinion about Wedding Planner
Get more free apps & games daily
Subscribe to our mailing list and get free apps & games daily to your email inbox.
Thank you for subscribing.
Something went wrong.