(Game) VR X-Racer – Racing VR Games
 iphone games for free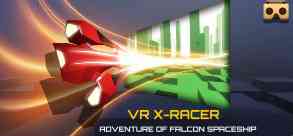 Game Description :
VR X-racer is VR version of X-Racer having 2 modes (hand mode and virtual reality mode). This simple yet addictive game has reached the number of 5 million players worldwide. It was selected as Top 10 Best Virtual Reality Games 2016 by Trickolla.com and received thousands of compliments worldwide:
And many more…
Game Features :
Multicolor themes
Graphics quality is quite superb
Virtual reality (VR) and hand mode
Increasing Difficulty- Endless Race
Stunning 3D visuals effects
Collect credits and purchase spaceships
STORY
In this game, we will be in star war 3, when UFO spaceship attacks our Earth, we step up on a jet, bring missiles like in battle Los Angeles, fly up, and join the right side to protect what belongs to us.
The airway is very difficult and dangerous. You need to avoid many obstacles around. Be careful, if you are playing VR mode, you could fall down to the ground.
That's incredible when you play VR Racing game with an iPhone X. Very awesome!
Enjoy the game for brave xracer!
This game VR XRacer is well compatible with all mobile devices. The most Unlimited VR Racing game ever, try hard and feeling the rush!
DTA Mobile
Like us: www.facebook.com/DTAMobile
Follow us: @DTAMobile
Additional Information :
Compatible with iPhone, iPad, and iPod touch.
Requires iOS 8.0 or later.
Size 86.3 MB
User Reviews :
This is literally the best VR game I have ever seen. Every other one you either need some sort of controller, special headset, specific phone brand, etc. With this one, just tilt your head/phone and the ship will move. you can also turn VR off and on. But the game needs to have less obstacles in VR mode because you can turn your head a lot faster than you can tilt your head, there also should be more ships you can buy with your points, but that has nothing to do with if the app is good or bad, i have played this app quite a bit, and I have seen no glitches. (except that you can fly into canyon walls) Anyone who says this game is too hard, you are pathetic, you obviously have only done one run and died immediately. Anyway, do NOT buy pro version, all you do is change the colors and nothing else, don't even pay to remove ads, just turn off wi-fi and (if you have it) data. This is perfect for anyone who loves obstacle course games and/or VR games. You don't even have to have a VR head set!!!!
Note to gamers: gameplay is fly forward, avoid obstacle, and collect various rings by moving sideways (not turning). I was skeptical at first, but when I realized that there are harder areas the further you go I was impressed. Good as a normal game. Perfection as a vr game. Note to developer(s): in ALL other vr games I've played there was a way to tell your device which headset is being used so that vr is optimized. Why doesn't this game have that. I had to partially cross my eyes the whole time and now my close-range vision is temporarily messed up. Please fix
This game is awesome! It's graphics are a perfect style for this game, there also isn't an end so you can keep on challenging your self to go farther through the different levels, though I would like it if you could get more ships that you can get with your points and maybe that you can customize the color of your ship. Other then those though, this is just an amazing game
Get VR X-Racer from App Store
What is your opinion about VR X-Racer
Get more free apps & games daily
Subscribe to our mailing list and get free apps & games daily to your email inbox.
Thank you for subscribing.
Something went wrong.