(Game) Valiant Hearts – The Great War
 free games for iphone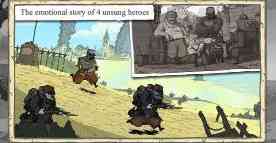 Game Description :
IMPORTANT  This game requires an iPad 2 (or newer), iPhone 4s (or newer), or iPod touch 5th Generation.
Download Valiant Hearts: The Great War now and receive a FREE Interactive Comic Book inspired by the game.
Immerse yourself in the touching story of four unsung heroes swept up by World War 1 in this unique interactive graphic novel that combines action, puzzles and adventure.
Valiant Hearts: The Great War is a 4-part, episodic game inspired by letters from World War 1. Initial app purchase includes Episode 1. Episodes 2-4 are available as multipack or individual in-app purchases.
Game Features :
PLAY A GRAPHIC NOVEL
An emotional adventure game delivered with a unique tone and art style.
A MIX OF EXPLORATION, ACTION AND PUZZLES
Move into action and help your heroes survive the Great War by solving puzzles or sneaking through enemy lines…
FOLLOW THE STORY OF THESE VALIANT HEARTS…
Lost in a maze of trenches, play each of these characters and help a young German soldier find his love! All of them will be helped by their faithful canine companion, Walt.
RELIVE THE GREAT WAR
This fictitious story takes you back to famous WW1 locations, revisiting historical battles on the Western Front, such as the Battle of the Marne or the Battle of the Somme!
INTERACT WITH HISTORY
In partnership with Apocalypse World War 1 and the Mission Centenaire 14-18, learn more about the Great War through historical articles and share them with friends.
Save 33% on additional episodes by purchasing the Multipack Episodes 2-4 directly in the game
Additional Information :
Compatible with iPhone, iPad, and iPod touch.
Requires iOS 10.0 or later.
Size 1.2 GB
User Reviews :
I love this game but playing the same characters over and over again makes it seem boring . This is a idea to change the game a little . I came up with custom characters. This will be able to let players create themselves in the game . You just push a button that says create character . Then you are taken to a customizable character . Change his look clothes helmet and skin color . For example say someone wishes he was in the game well guess what you could . Are you are American and you want a person with American style WW1 cloths well you could . Are you want to be a Canadian soldier well you could . This will make players be able to create their own story . You will be able to choose where he is from are his name . This would be able to make a lot of players happy . So please add this . Oh and you could still play as the original characters to .
I originally had sound issues through Bluetooth devices that continue; however, using earbuds I am able to play with great sound. Not yet complete with episode one I am already blown away with the immersive storytelling. I feel as though I am there in the trenches fighting to survive with the story's characters. Thus far the game is rich with historical narrative and facts from the Great War. I cannot wait to continue through all the episodes to see how this story unfolds. Gripping and well thought out. A clever mix of storytelling and puzzle solving will take you on a journey through history and give you a unique perspective on the lives of ordinary people thrown into the horrific reality of war. A must for any fan of historical warfare and immersive story-gaming.
I have never ever written a review for a game on mobile but this game deserves it. The art style is beautiful, the characters are amazing and the story telling is by far the best I've seen on a mobile game. It took me about 4 days playing off and on to finish this game and I enjoyed every second of it. As for the price it is definitely worth it to but the 9.99 bundle and get the full game (it also has a a lot of replay ability value) so overall it's an amazing game with great storytelling and characters. Thank you so much for the game!
Get Valiant Hearts from App Store
What is your opinion about Valiant Hearts
Get more free apps & games daily
Subscribe to our mailing list and get free apps & games daily to your email inbox.
Thank you for subscribing.
Something went wrong.