(App) TV Guide Mobile
 iphone apps for free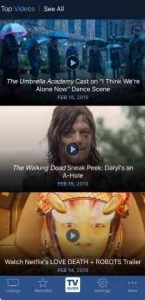 App Description :
Get the ultimate TV companion with TV Guide's official app! It makes TV simple again with the best listings grid ever. You can watch full episodes and videos and get exclusive news anywhere, anytime. There are now more ways to discover what to watch with the app's personalized all-new home screen.
App Features :
TV Guide's Highlights and Features:
New Home Screen – discover what to watch based on what's trending, your favorites and editors' picks
Optimized for iOS 13 – easily find news about your favorite shows by using Spotlight search
Watchlist – a personalized TV guide where users can add their favorite shows, sports teams, movies, and celebrities and find out where, when and how to watch
Full Episodes – watch full episodes and movies on-the-go anytime, anywhere – with options from Hulu, ABC, CBS, HBO Go, MAX Go, Crackle, iTunes and more
Trending Tonight – an up-to-the-minute view of the night's top shows determined by TV Guide users
TV Listings – use the detailed TV listings grid with the ability to:
Set up alerts so you'll never miss another live airing
Add shows to your Watchlist
View your favorite channels
Share what you're watching with friends on social
Exclusive content – get the latest breaking news and photos, watch exclusive videos and read episode recaps
New Tonight – find out what time and channel shows are on and access quick episode summaries
TV Guide's app is optimized for iOS 9.0 and above
See what other TV Guide users are saying…
Easier to operate than any other! Thank you TV Guide – Bill Z86
I can't tell you how many times a day I check this app. Love it! – Mishael S
I've used this app for many years and it just keeps getting better – more user friendly. –F-nmi-J
TV guide is perfect…period!" – KKp6
I love this app, especially the Watchlist feature because I get emails reminding me of my favorite shows. – Vast I
Download the app that USA Today called invaluable and TIME Magazine listed as one of "50 Must-Have Apps. Also featured in The New York Times, The Washington Post, The Los Angeles Times, FoxNews.com, Reuters, CNET, Fast Company, TechCrunch, and more.
Want more from TV Guide? Stay up to date with the latest entertainment news, celebrity gossip and more from your favorite TV shows…
California Privacy/Info We Collect: https://ca.privacy.cbs
California Do Not Sell My Info: ca.privacy.cbs/donotsell
Additional Information :
Compatible with iPhone, iPad, and iPod touch.
Requires iOS 11.0 or later.
Size 64 MB
User Reviews :
I use this app pretty often sometimes and then I also have breaks where I don't use it at all. Along the way there have been some glitches but like any other app, that's going to happen as frustrating as that may seem…. Especially when you need it. For the majority of the time it's pretty accurate and matches what I see. I do not have cable or satellite tv and with that comes no guide on tv so this works great when I want to take a glimpse at what's on without actually scanning each channel. I have noticed lately that there is at least 1 new channel, that I know of, for those who use an antenna. In my area (Midwest) it is 6.5 Start TV. When I do land on that channel it doesn't show the info as to what is currently on and it is not listed on this app yet so I do not usually last too long watching it. It would be nice to have the channels on the app update as soon as the channels on TV do but I am not a programmer so I haven't the slightest clue how hard it is to update apps more often. Some I have weekly, some are monthly and some are yearly. I guess it depends on how often those are using the app and how bad the glitches are. I have had this app on various phones since about the time apps were available and I haven't let go so far.
I had previously given a 5-star review but I am downgrading one star. TV Guide is still a very good and convenient tool for finding new shows of interest 14 days in advance. Only rarely do I detect flaws. I jot down shows of interest, to guide my recording, into a small notebook. (Utilizing my Comcast On Demand service.) In many cases, you need to know the episode number to keep your recordings straight and to not miss an episode. Unfortunately, TV Guide frequently gets the episode numbers wrong. More and more I find the need to double-check against web searches for a show, or compare to what the "Next Episode" app says. Episode numbers are wrong enough of the time lately that I cannot grant the full 5 stars. I will continue to rely heavily on this app but with more cross-checking labor than I used to undergo. 4stars
Get TV Guide Mobile from App Store
What is your opinion about TV Guide Mobile
Get more free apps & games daily
Subscribe to our mailing list and get free apps & games daily to your email inbox.
Thank you for subscribing.
Something went wrong.