(App) Triller
iphone apps for free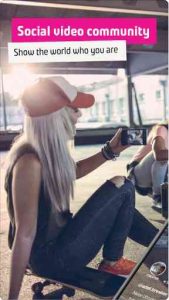 App Description :
Triller is an entertainment platform built for creators. A social video community where you can show the world who you are by capturing flawless videos and sharing them in seconds. Express yourself and connect with the content you love. Create amazing music videos for trending challenges such as the Drake #InMyFeelings challenge and many more.
Millions have made Triller videos on the fly including Chance the Rapper, Justin Bieber, Rae Sremmurd, Rita Ora, Kevin Hart and more. Just shoot a few takes, tap the Triller button, and we quickly edit everything together into an impressive, shareable video.
App Features :
 Create professional-looking videos in minutes with the help of our unique auto-editing algorithm
 Look your best with 100+ filters and personalize your videos with text, drawings and emojis
 Access the top trending tracks or your own music from your library
 Collaborate with friends next door, or all over the world, in a group video
 Share videos via Instagram, Twitter, Facebook, Text, E-mail or save to your camera roll
You do you, Triller does the rest.
Questions? Feedback? We love it. Please write us at: feedback@triller.co
Triller terms: triller.co/terms/
Additional Information :
Compatible with iPhone, iPad, and iPod touch. Apple TV.
Requires iOS 10.0 or later.
Size 137.3 MB
User reviews :
Triller used to be an AMAZING app until they started to update it. I always liked triller because it was never like musically, tik tok, or any other of those music apps. Triller was easy and fun to use. Now when you search up a song you are bombarded with 10 random songs until you finally find the one you're looking for. Sometimes I'll search songs up and all I see are a million songs that don't even match what I'm looking for!!! And I just realized a few days ago that unless you post something, whether it's public or private, the videos that you created don't save. I created a bunch of music videos, but didn't post the majority of them and lost them ALL!!!! To make matters worse, triller is hard to use. There used to be 3 simple tabs (your videos, make a video, and look at popular videos made by others) but now it doesn't even make sense! I miss the old versions of triller. With every update it keeps worse and worse…. and even MORE CONFUSING! Triller, if you are reading this, please stop updating and go back to the old version where this app was fun and easy to use.

Why make changes. the last version, as well as those prior were way better, before, when you searched for an artist or song, that's exactly what the search revealed. Now when you search, it's a million other unnecessary songs totally irrelevant to your search, before, a search would reveal all of the songs from the artist, then near the end, you may have some songs related to your search. Now you have to scroll for days hoping to find what you're looking for, & It's annoying. The videos are shorter, they use to be 30 seconds, now they're 16. The filters often disappear during playback. I do like how u can permanently set your account to "private" in settings, yet you have to select "private" every time you save & download which defeats the purpose. You also have to choose a category, before saving your vid, like for what. Triller was everything when it was first launched, It's cool though. I still use it, but as the saying goes,

"If it ain't broke, don't fix it!" If it was up to me, I'd still have one of the older versions.
Get Triller from App Store
What is your opinion about Triller
Get more free apps & games daily
Subscribe to our mailing list and get free apps & games daily to your email inbox.
Thank you for subscribing.
Something went wrong.
Summary
Reviewer
Review Date
Reviewed Item
Author Rating