(Game) Trial Xtreme 4
iphone games download for free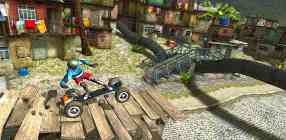 Game Description :
with over 150,000,000 downloads!!! The Trial Xtreme series is proud to present – the best trials bike riding game ever!!!
Feel the adrenaline pumping as you take your bike on MORE THAN 200 CHALLENGING AND SPECTACULAR LEVELS of pure motoring fun.
Earn cash in races, tournaments and in head to head duels. Prove yourself as the best extreme rider among your friends and then make your way to the top of the world ranking charts!
This is no ordinary skill base riding game – our brand new Xtreme physics engine and super responsive controls will help you burn through crazy obstacles and take you for a ride like you wouldn't believe 🙂
Game Features :
EXTREME TOURNAMENTS ARENA – race against other riders from your country and around the world and win cash or other amazing prizes.
EXTREME DUELS – want to make some big bucks? In the duels arena you can bet against other riders and double your cash.
EXTREME COURSES – the craziest 3D graphics you've ever seen come together with perfectly designed levels to form an insane riding experience.
EXTREME UPGRADES- upgrade your bike abilities; improve your 'on track' performance and the look of your bike with the most hardcore stuff available.
SWAG! –bling up your rider with tons of awesome gear and match your style to your abilities.
Privacy Policy:www.deemedya.com/privacy
Terms of Use: www.deemedya.com/license
Visit our official site at: www.deemedya.com
Like us on Facebook at: www.facebook.com/Deemedya
For support: support[at]deemedya.com
For feedback and suggestions, please visit: www.facebook.com/Trial4
Check out our videos and game trailers on: www.youtube.com/user/DeemedyaMS
Additional Information :
Compatible with iPhone, iPad, and iPod touch.
Requires iOS 8.0 or later.
Size 818.2 MB
User Reviews :
I hate challenging games because I play games to calm my nerves and temper, but this is my exception. I get frustrated, but I can't help but laugh at the hilarious wipeouts. Why 3 stars then? The ridiculous cost to play is a major killer for me. What happened to completing levels and moving on to the next location without having to pay $150,000 for it? Everything is ridiculously overpriced, ridiculously! It's impossible to earn money on this game yet everything costs so much. It shouldn't cost to complete a game. The first bike fully upgraded is still crappy, the next option is the $400,000 bike which would take a long time to earn. I understand the concept of trying to make it to where you earn money to keep updating the game, but as of now, I'm bored of the same map and can't earn the money for a new one because I've completed everything on this map except the extreme levels. How is it fair then that I should have to pull out the bank card just to progress forward? Did you ever realize that most people, when they are bored of a game, just put it down, therefore not spending the money to unlock new maps. Ultimately, the prices need to be dropped dramatically.
I have spent a fair amount of time playing this game and it is a lot of fun but I have one issue that doesn't ruin it but is a bit annoying. After you have won the levels and then are just going back to race again and save up money the winnings are not accurate. For instance on a level that costs $3000 to race and you win it says your winnings are $6000 when you only really get $3000. You get the $6000 the first time you win it but then every time after only $3000. Please change it so you either actually get the $6000 or that it only says what you are really winning. A little misleading.
Get Trial Xtreme 4 from App Store
What is your opinion about Trial Xtreme 4
Get more free apps & games daily
Subscribe to our mailing list and get free apps & games daily to your email inbox.
Thank you for subscribing.
Something went wrong.