(Game) Traffic Tour
iphone games download free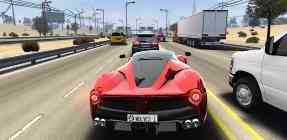 Game Description :
Traffic Tour is a new endless arcade racing game that takes you to another level of smooth driving simulations and high graphic quality. Drive your car in the endless highway roads, overtake traffic in challenging career missions, collect blueprints, unlock new cars, upgrade them, and challenge your friends in real-time racing with different camera modes to give you a unique driving experience.
REAL-TIME MULTIPLAYER RACING (PVP)
Choose your best car and challenge other players in a real-time
Join 100 different online missions and get prizes by beating your opponents
Send requests and challenge your friends
Game Features :
Unlimited play – No fuel or time limits
Different camera modes: first person, third person, driver camera and more
Multiple control modes: tilt, buttons or steering wheel
5 game play modes: Multiplayer, Endless, Career, Time Trial, Free Run
100 missions in career mode
5 realistic environments: Highway, City, Desert, Rain and snow with day or night times
40 different cars with the ability to customize colors and wheels
Unlock cars by collecting or buying blueprints
Upgrade cars features: Speed, Handling, and Brakes
Variety of traffic vehicles: Trucks, Buses, Vans, Pickups, SUVs
Multiplayer racing, challenging friends and players from all around the world.
Ability to use the Nitrous feature in multiplayer mode
Smooth and realistic driving
TIPS
Unlock new cars by collecting more Blueprints in endless mode
When driving over 100 km/h, try to overtake traffic cars to get bonus scores and cash
Get extra cash when playing evening and night in endless mode
Driving in opposite direction in two-way gives extra score and cash
Use Nitrous in the right time in multiplayer mode to get the most out of it
Share your results with friends to get extra cash
This game requires a persistent Internet connection (network fees may apply)
FOLLOW US
www.facebook.com/TrafficTourGame
twitter.com/TrafficTour
www.instagram.com/traffictour/
www.youtube.com/c/Wolvesinteractive
Additional Information :
Compatible with iPhone, iPad, and iPod touch.
Requires iOS 8.2 or later.
Size 372.1 MB
User Reviews :
Very fun game. I'm a huge fan of traffic racing games. This game doesn't have overwhelming graphics, but it moves so smoothly you NEVER have some strange lag messing you up. The progression is a little weird, but the usual stuff, you know? And ads are…. well, how ads are. All these games are riddled with them – the 30 sec ads.My BUT is not about the ads, actually. It's about how short everything feels in the main campaign mode, and how much interruption there is. In fact, it is THIS precisely which makes the ads so bad. I'm generally really good at these games, so in an endurance level, it would be some time before I got any ads, but with a level lasting only 15 seconds…. and then two 15 second ads; then another 15 second level with two more 15 sec ads. I just can't. Sorry guys.
I understand why the flow of ads is so consistent, and it's annoying, but I didn't pay for the game so you know what? It's all good. If I fork over a couple bucks to get the ad removed then the person or people that created this deserve to get paid. Either I pay them or their ad clients pay them. Anywho, the gameplay is solid with good pacing. There are a couple minor glitches in relation to the other vehicles on the road, but it doesn't take away from the gameplay- they all help the player so perhaps they're intentional but who cares? It's fun to accelerate and brake, and the game is challenging enough to keep it interesting. Good job!
Fun game lots of material here I like the new update and rewards for completing various tasks. I wanted to write a review beforehand but I'm more inclined now because of one minor criticism; the ads are part of every free game but since I did the most recent update the sound from gameplay disappears when I want to continue after a crash. I play I crash a ad will come on and the sound that I previously had is muted. If you can address this with the next update it would be great and maybe even five star worthy, hey, hey.
Get Traffic Tour from App Store
What is your opinion about Traffic Tour
Get more free apps & games daily
Subscribe to our mailing list and get free apps & games daily to your email inbox.
Thank you for subscribing.
Something went wrong.