(Game) Traffic Racer
iphone games download free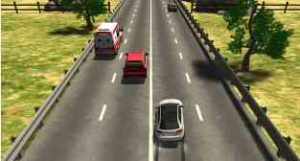 Game Description :
Traffic Racer is a milestone in the genre of endless arcade racing. Drive your car through highway traffic, earn cash, upgrade your car and buy new ones. Try to be one of the fastest drivers in the global leaderboards.
Game Features :
Stunning 3D graphics
Smooth and realistic car handling
35+ different cars to choose from
5 detailed environments: suburb, desert, snowy, rainy and city night
5 game modes: Endless, Two-Way, Time Trial, Police Chase and Free Ride
Basic customization through paint and wheels
Over 15 different models for traffic
Game Center Leaderboards and Achievements
iOS 7 MFi controller support
Rich language support
GAMEPLAY
Tilt or Touch to steer
Touch gas button to accelarate
Touch brake button to slow down
TIPS
The faster you go the more scores you get
When driving over 100 kmh, overtake cars closely to get bonus scores and cash
Driving in opposite direction in two-way mode gives extra score and cash
The game will be updated constantly. Please rate and give your feedback for further improvement of the game.
TRAILER
youtu.be/E4bpHZLRhPY
FOLLOW US
facebook.com/trafficracergame
twitter.com/TrafficRacer
Additional Information :
Compatible with iPhone, iPad, and iPod touch.
Requires iOS 6.0 or later.
Size 146.2 MB
User Reviews :
The game overall is simple, the graphics pleasing to the eyes. The maps seem repetitive tho, I don't know why I would buy another map if it doesn't give me perks. The game modes are fun, though. Each map should have different parts besides aesthetics. Maybe one has potholes or construction. I would like if non player cars could interact with each other. It looks kind of lazy when a car rolling off the road clips through an entire semi truck. But that's just me. I like the game over all. It could have more danger or events. 4/5 it's a good game.
I really like this game, but I experience troubles while trying to play it. For one I can't play this game as much as I'd like to because it always crashes and goes back to my home screen on my phone. It is very frustrating, and I desperately ask for this to be fixed…. My second problem is that if I ever do get to play this game without it crashing which is very rare, I think there needs to be more cars and trucks added to the game, and I think getting chased by police cars would be more fun too!!! I desperately ask for this problem that I have of the game crashing all the time to be fixed, and to add major improvements to the game so it does not crash anymore… Thank you for your time and for reading this message, I hope this can be fixed soon!!!
I love this game but on one of the police cars the paint paint isn't right I would like you to add Ukraine on the paint it would be more likely because I'm from Ukraine I would like more countries on the police car that would be much funner like Brazil or Mexico I would like you to add this on the map and I wish there would be more roads so please set this on the next update that would be cool thank you very much I love this game very much and I hope you guys add more stuff to it and I would like have more money in this game like 100% .
Get Traffic Racer from App Store
What is your opinion about Traffic Racer
Get more free apps & games daily
Subscribe to our mailing list and get free apps & games daily to your email inbox.
Thank you for subscribing.
Something went wrong.