(Game) Township
 iphone games download free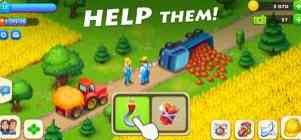 Game description :
Township is a unique blend of city building and farming!
Build your dream town! Harvest crops, process them at your facilities, and sell goods to develop your town. Trade with distant islands. Open restaurants, cinemas and other community buildings to give life in your town special flavor. Explore the mine to get resources and find ancient artifacts. Run your own zoo and collect animals from around the world.
Are you ready to build your dream? Let's get started!
Game Features :
Different buildings and decorations you can use to create your dream town
Various crops to grow and later process at your factories
Fun, charismatic townspeople with orders you need to fill
Your town's mine packed with ancient artifacts to discover and collect
Exotic goods brought from the islands
A zoo to build where you can even breed animals
Famous landmarks you can use to decorate your town, like the Statue of Liberty, Big Ben, and many more!
Play with your Facebook and Game Center friends or make new friends in the game community!
Township is free to play, though some in-game items can also be purchased for real money. If you don't want to use this option, simply turn it off in your device's "Restrictions" menu.
You need an internet connection to play the game and enable social interaction, competitions, and other features.
Enjoying Township? Learn more about the game!
Facebook: www.facebook.com/TownshipMobile
Twitter: twitter.com/township_mobile
Questions? Contact our Tech Support at support[at]playrix.com.
Terms of Use: www.playrix.com/terms/index.html
Privacy Policy: www.playrix.com/privacy/index.html
Additional Information :
Compatible with iPhone, iPad, and iPod touch.
Requires iOS 9.0 or later.
Size 296.8 MB
User Reviews :
I have been playing this game for over five years and I honestly think it is the best farming game of all. The game has so many facets beside just the farm part. They have yacht races, little mini games, the ability to join coops and chat with friends and so much more. I have always given the game a five star rating and still would except for a couple of issues that really need to be addressed. The major problem I have is the lack of land to design our towns. The game has the cutest decorations and the designers are constantly adding more, they do give land expansions but never to the degree that the towns don't look cramped. Many of the buildings are too big and take up a lot of space. The solution they came up with was to store the buildings,but if you do you need to give up farmland that the building enables you to have. A total non solution. The same problem with lack of space is in the zoo too. They have lovely trees, bushes and flowers but can't really enjoy them all because of the space problem.I would much rather see less new decorations (even though I love collecting them) and see more (many,many more expansions). If it's impossible to add more expansions, than give us islands to decorate. Since the decorations are usually themed having a little cowboy town, or prehistoric village etc would be a perfect solution. There are a few other minor issues, but the lack of land is the reason the game gets a four from me on my latest review.
This is probably my most favorite game I have ever played! It is super addicting! There is so much to do, farming crops, making things like bread, pizza, donuts, popcorn, etc etc. you build houses, and other things to expand your population. You have animals and factories that produce several things. My biggest complaint is that they try and make you spend money. I have another game from playrix and it is the exact same as in you will stay stuck on a level for a very long time, like 30 tries, which gets frustrating and to get an extra 5 moves you have to use 900 coins but when you beat a level you might get like 56 coins. Now back to township, things take real time like an hour to make pizza, or 12 hours to grow rubber tree, real life hours. You get cash for fulfilling orders, however it goes in this piggy bank that you must then purchase for real money? It is hard to play without spending real money, and it's like they purposely make it like that. Another thing, in order to build buildings you need supplies. Like drywall slabs, nails, windows, and bricks. When you fill train orders, trains bring you back building supplies. You will have 1 drywall slab, 30 windows, tons of bricks, to build things you need 10+ drywall slabs, so then your population does not grow, which prevents certain things from happening. I truly love this game, it can just be frustrating at times, especially if you don't spend money.
Get Township from App Store
What is your opinion about Township
Get more free apps & games daily
Subscribe to our mailing list and get free apps & games daily to your email inbox.
Thank you for subscribing.
Something went wrong.