(Game) Torque Drift
iphone games for free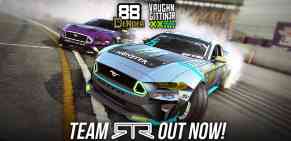 Game Description :
Build your car, customize your paint job, earn sponsors, and compete on the world stage in realistic ONLINE TANDEM BATTLES to become a DRIFT KING!
Game Features :
Real drifting physics
Online multiplayer tandem drifting
Real professional drifting teams
Real branded sponsors
Real aftermarket parts
Stunning Graphics
Realistic smoke effects
In depth car tuning
Custom livery painting
Car panel damage
Instant replay mode
I am addicted! Very impressed with the feeling and usability of it
DEAN KEARNEY (Professional Drift Driver)
By far the best mobile drifting game I've played!
ALEC HOHNADELL (Professional Drift Driver)
Notes:
iPhone 5s/iPad Air 2 or newer is required to play.
A network connection is required to play.
Torque Drift is free to play. In game credits and additional cars can be purchased using real money via in-app purchases.
Stay tuned on our social media for all things Torque Drift!
INSTAGRAM: www.instagram.com/torquedrift
FACEBOOK: www.facebook.com/TorqueDriftGame
YOUTUBE: www.youtube.com/channel/UCRakGh4VM3G9vMWxVJ5GYZQ
WEBSITE: www.TorqueDrift.com
Additional Information :
Compatible with iPhone, iPad, and iPod touch.
Requires iOS 11.0 or later.
Size 2.6 GB
User Reviews :
Hey people from Torque Drift! I just want to start by saying man what a game! This game is just like watching Formula D drifting! The mechanics, the tracks, the cars, the handling, everything is just so real and exactly like it should be! I've played other drifting games but the mechanics and everything behind those games just were not accurate and not true to the real deal at all! But this game is! Sometimes makes me feel like I'm driving the real car and it handles exactly how I make it handle!Out of everything I really enjoy about this game, there is literally only 1 issue I am disliking since recently. I don't know why, but for some reason now, every time I try to play a tournament, I get into it, select to play against the driver it puts me up with, and when I finish my first run, it brings me to the replay screen showing my run and amount of points waiting to display the other drivers points, and then it just stays at that waiting screen and never moves on. Even after it displays the other persons score, it won't let me move on. That never happened to me before but now for almost a month of playing, it's been doing that. I even waited for more than 5 minutes once on that screen trying to see if it'll change and still nothing. Would you guys know why? Thank you! Hope you can reach me!
By far the most entertaining game for mobile. Graphics are A1 and physics are great. Car customization is great but I would love to have options for spoilers, maybe add some lighting options to the cars such as strobe lights, open headlights for the 180sx… you guys did a great job with this game, the tuning is great and I appreciate the update making it so you can tune during practice, this helped a TON! Overall I am very impressed with this game and enjoy playing it, HOWEVER, the most aggravating thing about this game is the connection issues, which I know can never be perfect, but when someone else disconnects and it says failed to connect and kicks me back to the main menu when I have 14 wins in a row and now have to start over again trying to get as many points per win as possible and high win streak it is just flat out frustrating. We shouldn't be penalized for connection issues. If there was a way to continue win streaks after connection issues it would be great. I know it's difficult because then there poses a threat of people creating connection issues to cheat the system but there should be some kind of forgiveness for connection issues as this has been my biggest factor in progression in this game. Other than that BEST GAME EVER MADE
Developer Response

,
Thank you very much for the Feedback! I will let the Dev's know.
Stay tuned on the Torque Drift Facebook page for updates and news 🙂
Get Torque Drift from App Store
What is your opinion about Torque Drift
Get more free apps & games daily
Subscribe to our mailing list and get free apps & games daily to your email inbox.
Thank you for subscribing.
Something went wrong.