(Game) Torque Burnout
iphone games for free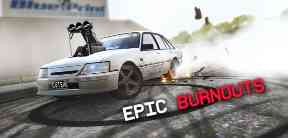 Game Description :
Torque Burnout is an unashamedly over the top 'driving' game which combines the best parts of every racing game!
Grip the wheel, put your foot to the floor and drive, completing donuts and drifts like a champion. Evolve your ride and push it to it's limits, rally the crowd into a frenzy and then push it some more to reign supreme as the BURNOUT KING!
Game Features :
Realistic burnout simulation complete with gorgeous smoke, bursting tires and flaming engines!
A wide variety of cars each with unique handling and customization.
Thundering engine sounds that will send chills down your spine.
3D Touch driving controls on supported devices.
Coming Soon:
More cars and engines.
More challenges.
Notes:
iPhone 5, iPad 3, iPad Mini 2, iPod Touch 6th Generation or newer device is required to play.
A network connection is recommended but not required to play.
Torque Burnout is free to play. In game credits can be purchased using real money via in-app purchases.
Any problems? Any questions? Any suggestions? We'd love to hear from you!
FACEBOOK: www.facebook.com/torqueburnout
TWITTER: twitter.com/leagueofmonkeys
YOUTUBE: youtube.com/theleagueofmonkeys
HOMEPAGE: leagueofmonkeys.com
FAQ: leagueofmonkeys.com/support/torqueburnout
Additional Information :
Compatible with iPhone, iPad, and iPod touch.
Requires iOS 9.3 or later.
Size 740.7 MB
User Reviews :
Alright.. I love this game but its not my type of game. You've a got a drifting game and a game where you burn rubber until you have debris flying. I like the mechanic of the engine being able to overheat but I just feel like it would mostly fit a drag racing game. I know their are many out there that are craving some racing considering now Racing Rivals has died out. I downloaded it and it's not the same anymore. The community is gone and their is no way of making money or getting cars online. No one is doing it except Pixel Car Racer. Pixel Car Racer is a good game but their is no multiplayer. The fun part was being able to win someone's car and use it as a weapons towards other players. I need something competitive and not just a game you sit around with. I know you developers are capable of bringing light into this type of game again and you will highly be favorited by me personally if you thought about it.
Torque Burnout is the type of game that you play in your free time. That being said, it's one of the most fun games that you can always play on the train, the bus, while waiting, etc. However, a large amount of people think that this game is a grind… It is, but it's a decent type of grind that's not mind numbing lay boring. This game is up there with Pixel Car Racer, in that, if you accept it as a every-once-in-a-while burst of entertainment, like sports or the news, you're less likely to get frustrated by it. However, if you wanna stick with it and really "tryhard" your way through it, some slick rides await!The only thing that annoys me about an hour in is the police car; fix the darn siren on it, it permeates through the menus and is generally annoying! Otherwise, thank you for such a great and polished mobile game!
The game is pretty addicting . A few points though .

1. Game progression is a little stilted . It seems to me that it shouldn't take as long as it does to open up new tracks .

2. I think my favorite part of the game is the destructive aspect . Including more of this would be awesome I think . Not just tires bursting or catching fire , or the occasional engine fire , which by the way is pretty cool . But maybe have a demolition derby or have the vehicles play more interactively with its surroundings within different rounds .

3. Spelling errors . It's Tires ……. not Tyres .

4. There are options to purchase specialty vehicles . I think in order for you to get more people to purchase these vehicles you may have to drop the price or increase the overall quality of the game . Graphics , game progression , a story line etc.

I'm not at all disappointed with the game . The controls are smooth enough , and feel pretty natural . I give it a four because the game has far more potential than what is given . Maybe there will be a Part two , in the not to distant future ?
Get Torque Burnout from App Store
What is your opinion about Torque Burnout
Get more free apps & games daily
Subscribe to our mailing list and get free apps & games daily to your email inbox.
Thank you for subscribing.
Something went wrong.