(Game) Adventure Escape – Time Library
 free games for iphone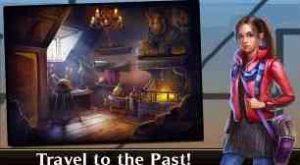 Game Description :
Can you solve the mystery and escape the Time Library?
Bored out of her mind in snowy Littleton, Alice decides to go to the library to restock on some books. She meets Hiro, a self-styled "internet personality," and together the two become unwilling partners in a time-travelling adventure that has consequences far beyond what they imagined. Join millions of happy Adventure Escape players and see if you can solve the mystery of the Time Library!
Play this premium escape game!
Game Features :
Beautiful graphics bring historical scenes to life!
Travel through the past and find long lost treasure! But watch out… there is something sinister brewing beneath the surface!
Complete 9 chapters – all FREE – each with unique escape challenges!
Gather tools and items to aid in your escape!
Discover the mystery of the Time Library!
Hilarious story with memorable characters like Hiro!
Solve devious puzzles and riddles!
Find hidden objects that help you break free!
It's free! No registration, no hassles, just download and play.
Discover the secrets of the Time Library! Travel to the past and escape with long lost treasure. But watch out… there is something sinister brewing beneath the surface.
Additional Information :
Compatible with iPhone, iPad, and iPod touch.
Requires iOS 6.0 or later.
Size 143.8 MB
User Reviews :
This is the second game I've played by this developer & I really enjoy them! I hate these type games when you randomly click trying to find things only for them to be used in the most bizarre ways or puzzles so hard you have to skip them. To me games should be a little challenging but also relaxing. The games by this developer are the right combination of both. Only had one or two puzzles where I got totally stuck & needed help which is fine (one I was trying to make it harder than it was lol). I also can't believe these games are free. Many games I've stopped playing because the minute they become popular, the developer starts making them impossible to play without spending a lot of money!! I do have one con that if I could I would have taken 1/2 a star off for. There needs to be a better save system. I play on my phone & I've had to play some levels over (quite a few times just as I was finishing) because I switched screens to take care of responding to a text or answering a call. Also happens if you leave your phone to do something else & phone turns off. When I go back to the game screen it starts the game over from the beginning of that level. Thankfully the levels aren't long and while I now know the steps & it goes faster, it is still extremely frustrating. Other games I have don't do this so I know it's fixable.
I absolutely love this game!! It's so original and so different from regular point and click games! I absolutely love all the characters, I had no idea about the twist at the end, I wasn't expecting it at all! In this game the puzzles challenge you so well and are really fun to solve. They test your ability to think outside the box and all the puzzles are really different too! In regular point and click games I find it so weird how you'll use something once and then never use it again like, "Umm I can probably use that later?" and this game doesn't do that! This game is carefully thought out and every bit of it makes logical sense. All of my regular point and click pet peeves are completely lost from this game. I also really hate when your into a game and then right in the middle of it you're stopped and have to pay money to continue! This game is completely free which was so amazing. I also love how their are hints too! The hints really helped me out and were so much better and more effective then having to look up a walkthrough when I got stuck. I want to know what happens to the characters!! Is it possible to make a part two? This game was overall so amazing I could go on for hours about it. It's the first one I've played from this company and I'm really excited to start playing the next one!
Get Time Library from App Store
What is your opinion about Time Library
Get more free apps & games daily
Subscribe to our mailing list and get free apps & games daily to your email inbox.
Thank you for subscribing.
Something went wrong.