(Game) Thumb Drift – Furious Racing
iphone games for free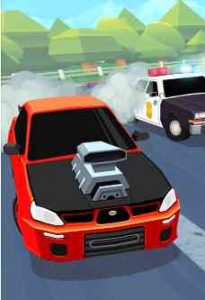 Game Description :
Play the #1 drifting game on the App Store with over 100 unique cars for fast, furious and fun action.
Whether you know how to drift or not you'll enjoy sliding sideways around the corners to compete for the highest score.
WHAT PEOPLE ARE SAYING
Terrific one touch controls, we can't stop jumping in to see how many coins we can grab – App Store Editor, Best Of February
4½ Stars – Thumb Drift is nearly perfect. Ridiculously fun and feels like butter. There's nothing quite like executing a perfect drift. – Touch Arcade
Humour me and download this game dude. I'm having so much fun : Phonecats
The best drifting game I've played" Ken(neth) Block, Ohio
Game Features :
WHY PLAY THUMB DRIFT?
You have an opposable thumb
Over 60 fully unlicensed cars to unlock + more to come
Simple one thumb controls
Addictive drifting gameplay
Original soundtrack with 4 pumping tunes
Challenge your friends for the top score
Cutting edge, flat shaded, low poly graphics
Groundbreaking Carticle™ Technology
SPECIAL GUEST CARS FROM:
1320 Video
Boss Logic
Maximum Driftcast
Rice Pirate
Cleetus McFarland "Do it for 'Dale!
Adam LZ
OzzyMan Reviews
Street FX
4WDTV
Rocket Jump
Yogscast
Zen Garage
Domestic Mango
Street Driven
Bulletproof Automotive
King of Nations
Yasid Design
Shock Mansion
Drift All Stars
The Slap Train
Car Throttle
Saudi Gamer
OMGDrift
Black Panthaa
AR12
More to come!
SCORE REGISTER
0-50: L plater
51-99: Sunday Driver
100-199: Training Wheels
200-299: Gettin' Sideways
300-399: You feel the need for speed
400-499: You're in the red
500-599: Flat out!
600+: You live your life a quarter mile at a time! Dom will be proud
If you're in control, you're not going fast enough. : Parnelli Jones
Minimum Requirements
iMessage stickers compatible only with IOS10
Hardware- iPad® Air™ or newer, iPad® 3 or newer, iPad® mini™ or newer, iPhone® 4s or newer, iPod Touch® 5 or newer
Software – iOS 8 or newer
Additional Information :
Compatible with iPhone, iPad, and iPod touch.
Requires iOS 8.0 or later.
Size 195 MB
User Reviews :
Hello i love your game so much but i think we gonna more cars. I think you should put more of the finest jdm car or maybe you should put some malaysian cars like perodua gen 2 or perodua satria neo because im from malaysia and i'll be very happy if make those car. Another one is you should put race mode it gonna very awesome if there a race mode. Anyway im just a kid with some suggestion because i think this game got pontential. One more thing there's a glitch went you go through the coin it didnt not collect it so please fix it. Thank you 🙂
This game is very simple an clean. The animations and UI are snappy and easy to navigate. I understand this game isn't supposed to be 100% realistic, but the way you control the car doesn't make sense. For example, the more you drag to turn your car, the smaller the turn radius. In other words, no matter how fast you are moving or how sharp you turn, you always get the same "grip". Making this game all about how fast you can react to the turns and how precise your timing is. It's hard to explain but it just doesn't represent actual drifting very well. And for an app purely based around drifting, it's disappointing there is no more strategy involved besides swiping left and right really fast and trying to avoid walls. The game itself isn't bad, but it's a bit stale. Too bad they already released the game with these mechanics, now they can't change them. It would be like Call of Duty changing to a third third person shooter (but obviously not to the same degree.) Well devolved game, just missing some logic. On another note, ads come up after every 5 or so attempts, (could also be time based, I don't know) and they aren't very intrusive to the game compared to other games I've experienced. Overall a decent game.
Get Thumb Drift from App Store
What is your opinion about Thumb Drift
Get more free apps & games daily
Subscribe to our mailing list and get free apps & games daily to your email inbox.
Thank you for subscribing.
Something went wrong.