(Game) The Quest Keeper
 iphone games download free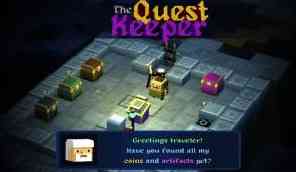 Game Description :
1 MILLION DOWNLOADS! Thank you, brave adventurers, for playing the game!
Help a lowly peasant on his journey to become a powerful dungeon master!
Dodge spikes, knives, spiders, skeletons, lasers, saws, and more on your journey to collect rare coins and artifacts.
Game Features :
10 unique and challenging quests
tons of collectable upgrades and items
infinite replay value in randomized, procedurally-generated environments
Game Center leaderboards for bragging rights in the Eternal Quest
adorable "boxel" graphics
a high-quality musical score
endless dungeon-running fun!
Having trouble with the controls? Options are available in the game's settings menu (to the right of the wizard in the starting area) which allow you to change swipe sensitivity or enable 'continuous drag' mode!
Additional Information :
Compatible with iPhone, iPad, and iPod touch.
Requires iOS 6.0 or later.
Size 119.5 MB
User Reviews :
This game is like Crossy Road but has way more depth and strategy. It got me hooked for a few days but then I beat it lol. However I was expecting at least something to happen when I got the last artifact. Nothing really happened and that was kind of disappointing especially considering how much time it takes to complete the game. It just acts like you still have to find more artifacts. Also on a smaller note the endless stage doesn't really get any harder past like 200. It would be more of a challenge if it continuously got harder and maybe the occasional obstacle from one of the actual quests showed up, like the swinging axes or something. Hopefully an update will come out that at least adds an interesting ending to the game, or adds more quests and artifacts. Other than this, this game is hype!!
I'd like to thank the creators for making such a good game. All tho an iOS game I still finding my self lost in the adventure of this game. The atmosphere, music, and sounds all fit together perfectly. I enjoy playing every second of this game. I wish there was a PC or Console continuation of this game where it builds on the 2 characters. All tho they don't talk much they have a lot of character in them. I find my self sometimes making back stories in my head of how they end up being that kind of friendship you see in Wallace and grommet where you are silent but you can tell what he's thinking, and the wizard with his witty remarks you can just sense your characters reaction to everyone of them. Thank you for making this game I hope you continue the style and hopefully have more levels or another game similar to this one!
Only four stars because it takes forever to get 2500 coins for the slowest shoes and the quests other than the endless one is too short to give you half a heart. And really JUST HALF A HEART THOUGH IT MAKES IT SO MUCH HARDER TO SURVIVE THE FIRST TWO QUEST and it increases in difficulty as you go which is good but not helpful. The mystery chest is great though just turn down the level it requires to open one a bit and it would be perfect. Otherwise the game is awesome! Has me coming back every Time! Also it is a bit glitchy and sometimes ignores my swipes and kills me which can be very frustrating when I'm far in but that rarely happens which makes it a slight bother but that's it. Awesome game in general though with just a few mishaps.
This game has so much and brings a different spin on the typical mobile runner. The game is difficult to pick up at first, but after a few levels, it becomes just hard enough to keep one coming back. Great style and graphics along with great in game items. I never felt the need to spend a dime, and was extremely happy that it was not a pay to win. Everything could be accomplished for free (it wasn't even too hard to earn enough coins). Amazing game, I just wish it had a more satisfying ending. All in all, very impressive game (especially for a 1 man team). 5 stars.
Get The Quest Keeper from App Store
What is your opinion about The Quest Keeper
Get more free apps & games daily
Subscribe to our mailing list and get free apps & games daily to your email inbox.
Thank you for subscribing.
Something went wrong.