(App) The DailyHoroscope
 iphone apps for free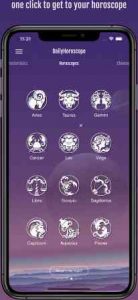 App Description :
The Daily Horoscope is a completely FREE horoscope application updated on a daily basis with the best daily horoscopes.
The Daily Horoscope is THE MOST POPULAR horoscope app on many major smartphones​. Tout being the most accurate and compelling horoscope app out there by its users!
App Features :
Daily horoscope
Weekly horoscope
Monthly horoscope
Zodiac Characteristics for each zodiac sign
Zodiac sign compatibility
Chinese horoscope for 2019 and 2018
Zodiac horoscope for 2019 and 2018
Explore alternative Druid horoscope
Missed a day-scroll back up to a week
Custom colors and font size (set in app settings)
Aries horoscope
Taurus horoscope
Gemini horoscope
Cancer horoscope
Leo horoscope
Virgo horoscope
Libra horoscope
Scorpio horoscope
Sagittarius horoscope
Capricorn horoscope
Aquarius horoscope
Pisces horoscope
Get your daily horoscope every day on the go through intuitive and user friendly interface.
With DailyHoroscope, your daily horoscope is just one click away!
TOS disclaimer:
By downloading, installing and using the Daily Horoscope application, you agree to our end user license agreement:
www.comitic.com/eula
and our privacy policy:
www.comitic.com/privacy
Additional Information :
Compatible with iPhone, iPad, and iPod touch.
Requires iOS 9.0 or later.
Size 105.4 MB
User Reviews :
Always exactly on target of what you may be going through, emotionally, mentally, and physically. No matter the time I read my daily Horoscope everyday or once in 4 months. I will relate and then it will give me small advise to overcome hard times, of heart break, disappointed, and very recently the untimely death of my one and only other half of my heart, and life partner. The pain is unbearable, I'm wondering if I will ever be OK again. Lost, confused, direction less, and absolutely the worst heart break, I have or possibly will ever know in my life. so I turned to this app. it said exactly what I was feeling, which is the pain of losing a deeply loved person. but, that I'm exactly where I'm supposed to be and even though at the moment ever being OK again, is far from true and that from this lose I will find my true happiness within myself, to learn that I'm a lot stronger than I give myself credit for and I and very close to true and complete stress free, worry free, and pain free big steps in the right direction if if I don't my guilt will destroy me in the end. I can simply finish with answering the unanswered questions of the recent issues in my life. bec
I was weary at first when I got this. It was just for a little bit of fun to see what generic thing I was supposed to be going through that day or week. But it has been extremely accurate since I got this app over a year ago. It might not be pinpointing the days that things happen but the week and month and even yearly horoscopes have all been on point.I've been super skeptical about all things astrology until I got this app and it opened my eyes to the science behind star charts and star signs. I got my star chart done on a separate cite and now I know all of my signs for the different planets and houses. This app is literally just your sun sign and your Venus sign if you use the compatibility calculator. I totally recommend this and hope you have fun with it. I also recommend that, if you get it, read the horoscopes after you've already been through the day. It's easy to say it works when you are trying to find stuff in the day to fulfill the horoscope you've just read. But if you look back, you'll see that it happened just as it said.
Get The DailyHoroscope from App Store
What is your opinion about The DailyHoroscope
Get more free apps & games daily
Subscribe to our mailing list and get free apps & games daily to your email inbox.
Thank you for subscribing.
Something went wrong.