(App) Text Free – Texting + Calling
iphone apps info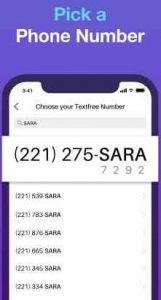 App Description :
Free texting and free calling with Textfree gives you free text plus a real US phone number so you can text or call anyone, even if they don't have the app. Textfree uses your data or Wi-Fi connection to keep you in touch with friends and family all over the globe—you can text now with features like group messaging, picture messaging, international texting & calling, emoji, and voicemail, it's the only messaging app you'll ever need. All for free.
App Features :
YOU CAN'T BEAT THE ORIGINAL
Textfree was the first free texting app in the app store. True story. Since 2009, Textfree has helped millions of people stay connected with friends and family. Since then, a lot of new and nifty features were added, but one thing's always remained the same—Textfree is the fastest, most reliable and easiest to use texting app out there.
Lots of other apps like textPlus, TextMe, Talkatone, and TextNow have come along since we launched,
BUT Textfree is the original and we think still the best free texting app available.
SEND UNLIMITED FREE TEXTS & REAL MMS PICTURE MESSAGES
With Textfree you get free SMS texting, text now totally free and unlimited. And now, Textfree is the first
free texting app enabled with real MMS picture messaging just like a carrier phone – no strange looking links. That means you can send picture messages to all your friends, even if they don't have Textfree!
REAL PHONE NUMBER INCLUDED
Not many free texting apps let you text now with a real phone number. But having your own local phone number means you can call your grandma's landline, order a pizza, SMS any number, and of course, hit up all your friends, even if they don't have a smartphone.
TEXT FREE WITH GROUP MESSAGES
Textfree is the perfect free texting app for group messaging with all your contacts. You can create groups, leave groups, add participants and let everyone be part of the conversation.
FREE CALLING
Free calling has never been better. Textfree-to-Textfree calling and any incoming calls are always free. Outbound calling minutes are easy to earn or super cheap to buy. Who doesn't love free calling?
TURN ANY DEVICE INTO A PHONE
No phone? No Problem. Text free has you covered. Textfree turns your iPod or iPad into a phone, so you can text plus call for free. Plus, calls sound great over Wi-Fi. Free texting on all these devices.
OPTIONAL SUBSCRIPTIONS
Reserve Number ($4.99/mo) – Keep your number from expiring (normally we reclaim in active numbers after 30-days)
Voicemail-To-Text ($4.99/mo) – Get your voicemails transcribed and sent as a text message so you can read it at your convenience.
Remove Ads ($2.99/mo) – This one, well, you get the idea.
TERMS
Subscriptions automatically billed monthly or annually to your iTunes Account and auto-renew, unless you turn off auto-renew at least 24-hours before the end of the current period. Payments are charged to your iTunes account upon confirmation of purchase. You can turn off auto-renew or manage subscriptions in your iTunes & App Store account settings. Cancellations take effect at the end of the active subscription period. Any unused portion of a free trial period (where available) is forfeited when purchasing a subscription.
Privacy Policy: https://www.pinger.com/privacy-policy
Terms of Service:
https://www.pinger.com/privacy-policy/end-user-terms/#terms
OTHER IMPORTANT STUFF
Emergency calls are not supported
Textfree is ad-supported
When roaming, additional carrier data charges may apply. Contact your carrier for details.
If your contacts aren't on Textfree, they might have to pay regular carrier charges for texts and pictures.
COPYRIGHT
© 2019 Pinger, Inc. All rights reserved. The Textfree name, associated trademarks, and logos are trademarks of Pinger, Inc. or related entities.
Additional Information :
Compatible with iPhone, iPad, and iPod touch.
Requires iOS 10.0 or later.
Size 189.9 MB
User Reviews :
This is been a success story also a struggle story me as the reviewer have been using Textfree for over six years close to seven and when I had no way to have a phone service from my iPhone I was able to always have access to people calling me and having textWhich it being a American app I had no idea I'd be able to use it in Europe where I went and subsequently suffered a heart attack still having no phone service tax-free had allowed me to call and text my friends and family in the USA with no extra surcharge and really no problem this was a great thing now if this doesn't come with the bells and whistles but it still was pretty forward thinking for time it came out it's still one of the originals and one thing about it it's stable sometime to glitches but it's stable overall and I've still been able to use it we talking about six years of service that I use pretty much every day I am an original thank you tax-free you really helped me expand on so many things and yes I do have phone service now but I still use this as one of my secondaryNumbers one of the best apps ever invented because it works
Developer Response
,
Hey Brit, we're so glad you're okay and safe now. Hearing that Textfree helped you through this scary time really blew us away. Thank you so much for choosing Textfree, sticking with us, and leaving us such an amazing review.
Get Text Free from App Store
What is your opinion about Text Free
Get more free apps & games daily
Subscribe to our mailing list and get free apps & games daily to your email inbox.
Thank you for subscribing.
Something went wrong.