(App) Super Slime Simulator
 free apps iphone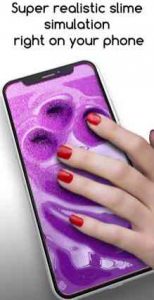 App Description :
Create super realistic slime and play with it on your mobile device. Relax your mind and discover our unique ASMR experience. Stretch your slime, squish it, knead it, pop it – just like you would with real slime or putty. Enjoy that oddly satisfying feeling right from your phone or tablet.
With a huge selection of slimes types, decorations and colors to create with, this app is for slime beginners and pro slime experts, young and old, boys and girls. You can even share the experience by sending slime gifts for your friends to enjoy on their own devices.
App Features :
Play with your simulated slime right on your phone.
Realistic slime simulation: Stretch it, squish it, knead it, pop it – just like real slime!
Relieve stress and discover our one of a kind ASMR experience.
DIY. Create your very own slime. Choose from a huge collection of materials, colors and add-ins: add glitter, jelly cubes and tens of other amazing decorations.
Rich slime gallery: Clear, milky, metallic, jiggly and many more.
Each slime boasts a unique texture, sound and behavior.
Fun area: Play Lu-lu's Slime Quest, guessing games, turn your photos into slime (greenscreen effect) & experience slime painting.
Send slime gifts to your friends. Hit the gift button and send gifts that your friends can load into their devices and play with!
Satisfying 3D Sounds: Turn up the volume and listen to your slime squishing as you touch it. For best experience, use a headphones set.
Shake it till you make it: Shake your phone to undo stretches.
Share your creations! Hit the share button and send images of your slimes to your friends.
FOLLOW US at
Instagram @superslimesimulator
Additional Information :
Compatible with iPhone, iPad, and iPod touch.
Requires iOS 10.0 or later.
Size 177.9 MB
User Reviews :
I love this app. I actually can't stop playing. I have some suggestions. First, I think you should have the option to make your own slime recipe. Instead of doing steps you could have a bunch of materials and you can make your own. Next, you should be able to add two colors in one slime. Their should be two different versions of this. One should be they are just next to each other. The other version should be like a color a hanging slime that you put one color on the bottom and another color on the top. This way when you poke it, it turns into a different color. Also, it would be cool to add cents. You would be able to tell but it would make it more realistic. Fourth, I know you have beads that you can add in the game but it would be pleasing if you could make a floam that's completely covered in beads. Lastly, I saw this thing on a different app that I don't remember the name of, but you could "record" a slime video and "post" it to get "subscribers". Then once you have some "fans" you can "sell" you slimes to them for money in the games. Basically you record about a 10 second video to upload and once you get a certain amount of people that follow you, you can remake the slime and sell to costumers. That's all really. I Hope you have a good day if you read through this and I hope it was helpful. Please take my ideas into consideration. Have a magical day (:
I really like this app because my parents won't ever let me actually make slime because they say it's to messy, but in this app I can make as many slimes as I want and I can customize them they way I like. There are so many slimes and so many decorations you can choose from and you can really customize it to be just yours! I really love this app and I find it useful if I am really bored and have nothing else to do on an extremely boring rainy day. On this app there are slimes that are originally there without you having to make them and it kind of saves time if you don't want to take a while mixing the ingredients together for two whole minutes, and the slimes that they give you are really amazing and satisfying to play with If I were to complain about anything on this app it would be that the slime types aren't actually named right. The creators of this app might want to look up the type of slimes there really are in this would and match it to the textures that they have created. Overall, this app is really great and useful for anybody who wants slime but their not aloud to make some or a person who has plenty of slimes but they really want to make their own custom slime or want to be satisfied. This app is really fun and I would recommend it to everyone who is utterly obsessed with slime. I hope this review was really helpful to who ever has read this because I know all the reviews that I read were really helpful to me.
Get Super Slime Simulator from App Store
What is your opinion about Super Slime Simulator
Get more free apps & games daily
Subscribe to our mailing list and get free apps & games daily to your email inbox.
Thank you for subscribing.
Something went wrong.