(Game) Stranger Things
 iphone games for free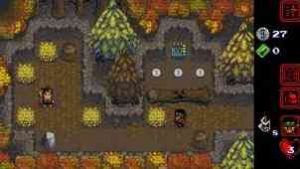 Game Description :
Stranger Things is back! Prepare for Season 2 of the award winning show by joining Hopper and the kids on a new, action-packed adventure.
Game Features :
 It's 1984 all over again. Experience an action adventure game just like the ones our heroes would have played back in the day.
 Explore Hawkins and its surroundings. See your favorite locations like Mirkwood Forest and Hawkins Lab. Uncover exciting areas you've never seen before!
 Solve puzzles with the unique abilities of each character. Lucas can nail anything with his Wrist Rocket. Nancy has an entire collection of bats to swing this time.
 Collect all the Eggos and Gnomes you can lay your hands on. You never know what they might unlock…
 Compete with your friends' Speed Run times on leaderboards and social media.
Additional Information :
Compatible with iPhone, iPad, and iPod touch.
Requires iOS 9.0 or later.
Size 362.4 MB
User Reviews :
This game is amazing. I found most collectibles, but Eggo seven! Man! That is not there. I have no idea where it is, how to find it, anything. I have just found another eggo in Bradley's behind a wall, reached it with Nancy. So I thought 7 might be so I search like mad all of the houses, invading NPC's privacy, just to find a frozen mid-quality breakfast item that isn't being kept in a fridge. I would feel better about breaking into people's houses if I had found it, but I didn't. So I broke into ALL the sewers. Nothing there except enough disgusting water that soaked Nancy and Hopper, and rats that gave Mike rabies. So my party (including max because I completed her fetch quests) bust into all the other shops in search of eggos, and either they don't sell them, or they don't want to sell them to this uncouth looking of a party. I even broke into the morgue, schools, and police station. NOTHING. LEGGO OF MY EGGO HAWKINS! (If anyone found this eggo let me know. Or the devs let me know please. If anyone in Hawkins finds it, they better not eat it! But apart from the missing eggo, this game is great. Also, I didn't buy any keycards, so it is possible all y'all out there! UPDATE: found it. Really dumb I missed it. It's in Mikes fridge! Now I can't find VHS 5, but I probably will too.
Nintendo needs to jump on this and make it a DS game Hate getting ads when you play games? Sick of people sending you app invites on Facebook for their game that makes them wait thirty minutes to move to the next level? Disgusted that you feel like you have to pay for your phone apps??Love RPGs and 8bit gaming?? ADDICTED TO STRANGER THINGS? If you answered yes to all of these questions, this free game is completely for you (no waiting for ads to play to move forward, no paying to get to the next level sooner; just straight video game playing). You will destroy your phone battery by 9 AM playing this game. You will find excuses to make nap time earlier for your children so you can play uninterrupted. You will eat cold dinner leftovers for breakfast because you have no time to do anything but play this Stranger Things game. Nintendo absolutely needs to partner with this game creator and make it a DS game once the entire series is completely done (I haven't finished the game yet, but I'm assuming with how big it is, it won't be over until the series is, which I'm sure would mean there will be add ons). I would gladly pay to have a DS copy of this. Y'all done good. 10/10 will recommend.
Get Stranger Things from App Store
What is your opinion about Stranger Things
Get more free apps & games daily
Subscribe to our mailing list and get free apps & games daily to your email inbox.
Thank you for subscribing.
Something went wrong.