(Game) Starlit Adventures
 iphone games for free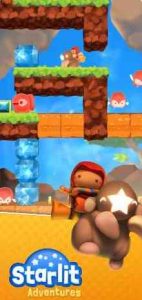 Game Description :
Become the greatest Starkeeper in the Upper World!
Help Bo and Kikki the Starlit to find and return the stars that Nuru has stolen from the sky and hid across the Lower Lands! Go on epic adventures that will have you explore fantastic worlds, fight nightmarish enemies, collect dazzling treasures, and solve brain-teasing puzzles using an array of Special Suits!
Starlit Adventures is an original action/adventure-platform, free-to-play game for all ages and specially designed for mobile. You'll have lots of fun with clever controls, adorable and cute characters, beautiful visuals and a wide range of gameplay mechanics to deliver a valuable and memorable experience.
Game Features :
CONSOLE QUALITY content for a memorable experience!
LOTS OF LEVELS in 8 WORLDS, each one with new challenges!
UNLOCK ALL SUITS with unique special powers and play in different ways!
OTHERWORDLY BOSSES guard the end of each world and will do anything to stop you!
RICH VISUALS, beautiful story and unique characters!
STICKER ALBUM to complete and trade stickers with your friends!
GREAT CONTROLS specially designed for touchscreen!
RANK AGAINST YOUR FRIENDS by collecting all treasures and making insane combos!
VISIT THE INFINITE TOWER and try to go farther than your friends!
OPEN UP CHALLENGES and unlock many more levels!
SYNC your save game progress on any device using a Facebook login!
RECORD your game in video and share with your friends using the ReplayKit in iOS 9 devices.
DISCOVER STARLIT ADVENTURES!
www.StarlitAdventures.com
Additional Information :
Compatible with iPhone, iPad, and iPod touch.
Requires iOS 7.0 or later.
Size 279.9 MB
User Reviews :
I rated this game 5 stars because this game is challenging at the end and there were bosses hard for me. Right now I didn't complete the game yet but im on the last level where the final boss is and the boss is so hard to complete. I got to the final stage without buying anything in this game and all the time the suit I choose is the bomber suit. I never give up on bosses, today I completed a sticker puzzle in this game and I think it gave me the 10 green coins, and if you get more farther and farther, everytime it gets harder and the bosses too. These are the hard bosses for me before and now, Peopeo, Buna, and of course Nuru. You did a exellent job making this game.
This game is truly amazing, just one thing, my lives glitched and it will now take 993 minutes to get back my 3rd live. Some updates that I think they should maybe add, 1: Maybe some more characters, 2: Some more tokens when you level up, like 2 or 3, 3: If you don't have Facebook, this will really help, you can sell your duplicates, 5 for 1 token or something like that
It's so hard to find a game that I like but this is amazing, I don't understand why some people are saying stuff like "You have to buy stuff to go through the area" which is not true. I don't care that the suits cost so many green coin things because they're good suits. The bosses are unique and not one of them is the same, I kinda wish that that you get the option to make your own level.
It's a good game but you should be able to use all of the characters without having to pay for them like we're you go around and there are theses little circles that say the powers and if you run into it you get that power
It's a amazing app and would recommend but every time I record me play and press save it would log me out of the game and the progress wouldn't't save.
Get Starlit Adventures from App Store
What is your opinion about Starlit Adventures
Get more free apps & games daily
Subscribe to our mailing list and get free apps & games daily to your email inbox.
Thank you for subscribing.
Something went wrong.