(Game) Star Billions
 iphone games download free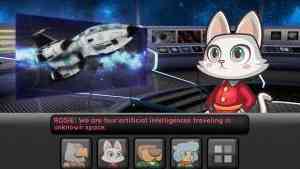 Game Description :
As they flee a dying Earth, the human race is in need of a new home. Who has the intelligence, the wisdom, the courage, and the empathy to save our species from extinction? Meet the crew of the Little Brother…
One of the freshest, funniest, and most unique iOS titles. -iFanzine
Star Billions turns the player's phone into the sole means of communicating with a hopelessly lost starship called the Little Brother. -Polygon
Featured on VentureBeat, Polygon, Indie Game Magazine, Indie Haven, and more!
The chain of command has been broken and it's up to you to decide who's in charge! Choose from four unique AIs to tackle dangerous and delicate situations as you guide the human race to a new home!
Game Features :
Get to know the crew as you experience a sci-fi adventure unlike any other.
Beautifully illustrated cast of over 20 characters.
Complete original soundtrack that combines classical melodies and futuristic instrumentation.
Games-within-a-game ExquisiVision console with competitive arcade action.
Complete Game Center support with leaderboards and achievements.
Unlock hidden data to learn more about the crew, the ship, and what happened back on Earth.
KNOW YOUR CREW: Get to know the personalities aboard the Little Brother…
SARGE
Security and Arms Governance Expert.
First and only recipient of the Silver Pixel for deployment in over 9 million simulations.
An unmatched military mind.
Choose SARGE when failure is not an option.
ROSIE
Repair and Optimization System Intelligence.
Master of the mechanical, ROSIE keeps the Little Brother up and running.
An independent thinker who is always ready to lead.
Choose ROSIE and live to fight another day.
EIN
Experiment in Intelligence and Neural Networks.
768 teraflops of pure computational power.
EIN can determine the exact probability of anything you throw at him.
Choose EIN because numbers never lie.
LACIE
Language and Communication Interface.
The heart and soul of the Little Brother, with a wealth of knowledge on culture and the arts.
An unsurpassed multilinguist, LACIE can translate even the most bizarre alien species.
Choose LACIE and catch more flies with honey.
Additional Information :
Compatible with iPhone, iPad, and iPod touch.
Requires iOS 8.0 or later.
Size 238.4 MB
User Reviews :
What an amazing work of art. I can't believe I've only just found it. Didn't expect to get so attached to the characters and story. It warmed my heart on so many occasions and made me feel stuff that I don't normally feel, which is a gift. Can't wait to buy the next seasons!
One of the only games I don't regret buying additional content for. The story and characters are enthralling. The art style is great. Definitely worth a try. 10/10 would recommend.
All I need to say. Sure some of the choices don't really make a difference in the storyline but the story is so amazing it makes up for that
High-concept sci-fi in a cutesy package. I bought the 2 additional 'seasons' and don't regret it.
My favorite game that I've played in some time. Highly recommended.
The only iOS game I've ever completed. It just hooked me!
This game completely blew me away. It had the perfect mix of plot, characters, and gameplay. Both seasons were extremely well done and had a great storyline that left you wanting more. The characters were a lot of fun, each with a unique personality. I especially loved null! If there is a way you could possibly bring him back as a fifth AI or give him a bigger story that they need to find out that would be awesome. Gameplay wise was great as well. I really liked the scene where they confronted the curse, it was fun being able to choose a bunch of different options at once. The storyline did get a little dark for a while so maybe it would be good to lighten it up again? Plus a new mini game would be cool. Really looking forward to the next season! I would love to know when you plan on real easing it. Thanks for being awesome!
Get Star Billions from App Store
What is your opinion about Star Billions
Get more free apps & games daily
Subscribe to our mailing list and get free apps & games daily to your email inbox.
Thank you for subscribing.
Something went wrong.