(Game) SquirrelWarz
 iphone games download free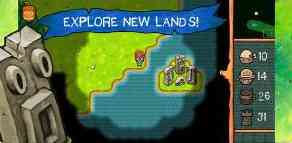 Game Description :
Great for beginners new to real time strategy games.
No ads.
Beautiful hand-drawn and watercolor animations.
Original soundtrack filled with melodicas, Marxophones, mouth harps and toy pianos.
Easy to learn and filled with our fun sense of humor.
Support for Game Center with Achievements and Leaderboards, with custom artwork for each one.
iPhone and iPad support.
No in app purchase. One price gets you 20 maps, and 2 breeds to play.
Game Features :
SquirrelWarz: The Cutest RTS the World Has Ever Seen – theiphoneappreview.com
…very pinnacle of the iPad RTS – geekdad.com/2014/08/real-time-strategy-with-squirrels
From the creators of Bob's Journey for the Sidekick… SquirrelWarz is a handcrafterd real time strategy mixed with casual game-play – perfect for short and addictive games on the go. We've taken the best parts of strategy games and combined them with hand-drawn squirrels and painted watercolor backgrounds.
About IGORLABS:
We are a group of designers, artists, and coders who handcraft unique apps that are quirky and fun. Got any requests, expansion ideas, or feedback? We'd love to hear it! Seriously, send it our way!
Please follow us on Twitter (and Vine) @squirrelwarz or check out our site for news, music, and our papercraft game www.squirrelwarz.com Or email us at hello[at]igorlabs.com
Additional Information :
Compatible with iPhone, iPad, and iPod touch.
Requires iOS 9.0 or later.
Size 103 MB
User Reviews :
Mini-map and infantry missing after Latest patch
I enjoy this game a lot, but after the latest patch, the infantry icon and the mini-map are missing. This happens on IOS 12. It works on the newer IOS on newer iPhones, but not on IOS 12. UPDATE: The developer(s) fixed the issue listed above. Thanks!!!
Developer Response ,
Oops. 🐿 found the missing . Fixes in 1.4.1. Thanks for the note.
This game is fun after a few plays. It's a hard game. Definitely takes some practice but once you win the feelings good.
Crash. Won't open on iPhone 11 Crashes after select. Every time
This game is way too hard and unbalanced. Unless you have literally the perfect strategy (which takes far too many times to guess), you will fail even the easy levels. There is also several glitches, and the voices are very dull. The only teams are red and gray squirrels, with both looking exactly the same except for the color. Controlling a squirrel is also difficult since you first tap the squirrel and then the position you want to go to, but after you tap, your control of the squirrel goes away. This means you have to tap your squirrel each time you want to move. If you're trying to run away from an enemy, it's almost impossible because of this control scheme. Also, there is no way to customize the controls or even your squirrels. I've played my fair share of tower defense games, but until the developer makes several changes or just redesigns the game completely, pass this up and look for a better one.
Fun to play. Good game balancing.
Awesome fun and super cute, to boot! Love it!
Get SquirrelWarz from App Store
What is your opinion about SquirrelWarz
Get more free apps & games daily
Subscribe to our mailing list and get free apps & games daily to your email inbox.
Thank you for subscribing.
Something went wrong.