(Game) Smash Cops Heat
iphone games for free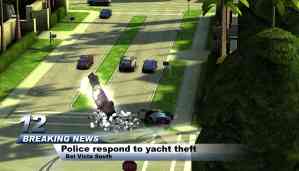 Game Description :
The smash hit action game enjoyed by over five million players is back, supercharged with cool new features, bonus missions and extreme pursuit vehicles. Hit the streets and take on a city full of criminal mayhem!
Game Features :
BE THE POLICE IN AMERICA'S WILDEST TV CHASES
Smash Cops Heat is an intense action racing game which pits your driving skills against felons desperate to outrun you in wild chases.
Pursue and takedown high speed felons
Escape criminal attacks in heart-stopping chases
Stunning 3D graphics
Large, beautiful, driveable city
Physics based chaos and mayhem
Ground-breaking, easy to use driving controls; ultra-responsive and accessible to players of all ability.
Explosive new power-ups, exclusive to Heat, let you crank up the carnage.
Unleash rapid fire takedowns with the brand new InstaRam
Fend off relentless felon attacks with the new & improved Super Cop
Choose from a huge variety of high performance pursuit cars ranging from American muscle to exotic European hypercars.
Smash Cops Heat features items such as power-ups and paint jobs that can be bought in-game. You can manage access to these items in Settings.
Facebook: facebook.com/HutchGames
Twitter: @HutchGames
YouTube: youtube.com/user/HutchGames
Web: www.hutchgames.com
Additional Information :
Compatible with iPhone, iPad, and iPod touch.
Requires iOS 6.0 or later.
Size 467.7 MB
User Reviews :
One of the pros are, it has a good view and controls are outrageously good. But I think they need to add more cars and customize your cars. Also, I cant do damage anymore when I ram into them.I think it's a OK game. When you play some of the levels don't allow you to get the donuts, because your timed and have to finish the level. They also, need to add more cars to the Heat Version of Smash Cops. Anyways this is a pretty good game to play.
Hello hutch games I am really impressed with smash cops heat I have no complains at all and I know you probably won't make much more of smash cops heat due to you making more and focusing on your other awesome games I won't complain but I will always consider and imagine this as a successful game and will always be but rather than that congratulations on being such a awesome band in the App Store I know your that the hottest band on the App Store but you are a good band and if you could I would like If you update smash cops but I understand if you can't thank hutch games forever I support you and continue your reign of being awesome game developers!
So this game is pretty fun and it has some pretty good graphics but…Cons : the controls are good by the finger touch but then the finger gets in the way of seeing my car on the screen. And the other control pad option makes it harder to steer. Also be careful of swiping through cars in the garage because you'll see a small option below to buy the car with real money. But if you tap on the actual full view of the car it still goes through of you wanting to buy the car. Another thing I hate is the fact that after you use so many quick rams that you eventually run out of them and have to spend real money for more of them.But other then that it's a pretty good game.
Get Smash Cops Heat from App Store
What is your opinion about Smash Cops Heat
Get more free apps & games daily
Subscribe to our mailing list and get free apps & games daily to your email inbox.
Thank you for subscribing.
Something went wrong.