(Game) SkidStorm
free games for iphone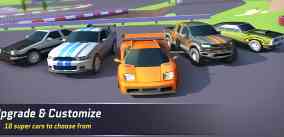 Game Description :
SkidStorm is a global multiplayer realtime drift racing game, free of charge and with simple graphics.
You can challenge others online or play alone offline. It offers the smooth control which is really easy to get the hang of! In the game, you may drive the cars and drift though all kinds of tracks, swipe your fingers to experience the thrilling races. You may also fill up nitro tanks to speed up or overtake in the corner to become the champion.
How to play:
Simply click the button "Left", "Right" to control where the car goes, and fill up nitro tanks to speed up, and overtake in the corner to win the game.
Game Features :
24 maps for you to choose from and enjoy the multiplayer realtime racing to the limit
17 different types of cars
12 skins to customize your cars as you want
5 upgradeable parts: engine, turbo, motor, nitrous and tires
Form a clan to play with your friends and share the glory
Leaderboard: win the trophies and get on the top of the chart
Various game modes: global multiplayer realtime matching mode, single player mode, Career mode, AI mode…
New content coming soon!
Tips:
Carefully maintain your drifts to fill up nitro tanks and earn more chances to speed up
Chicane is the key of how you overtake the others
Use your nitro wisely: straight paths or the home stretch is the best
The most latest drift racing game made by Cheetah Mobile. Go give it a try!
We'd love to hear your thoughts and suggestions on our game. You are invited to join us to improve it together. More updates and surprises are coming soon. Stay tuned!
E-mail: skidstorm[at]cmcm.com
FB: @SkidStorm
Privacy Policies:
www.cmcm.com/protocol/site/privacy.html
www.cmcm.com/protocol/site/tos.html
www.cmcm.com/protocol/site/ad-choice.html
Additional Information :
Compatible with iPhone, iPad, and iPod touch.
Requires iOS 8.0 or later.
Size 301.9 MB
User Reviews :
The game is extremely fun and easy to learn, with a well-done single player campaign. It's engaging and addicting to play but also limits how fast you can through cars or levels, which is nice if you don't want to get bored within a week. The multiplayer is great, but sometimes glitchy. One thing I've noticed is playing on data doesn't work well, as it will place you in a different position from what u actually got. For example I thought I'd gotten first with no one in sight but then got a third place reward. Despite this frustrating issue, I still enjoy multiplayer. Although, they the matchmaking needs to be worked on. I played people way above me in trophies and level a few times and it makes it unfair and annoying. Another issue I've had is watching advertisements to get diamonds or rewards when I'm out of keys. Usually, it's just a waste of time because once I close out the videos, I get nothing for watching them despite going through the whole thing. You can only watch the videos for diamonds three times a day, but after I close it out I would still have three left, as if I never watched it despite wasting the thirty seconds. I'm hoping these minor issues get fixed to make the game even better.
Hi, great game lots of fun, love that the makers do not allow cheaters and will remove them. The game is fun from the start and it's not completely out of reach to update your cars. The few problems I have had were, the nitro not registering when I hit the nitro button and yes it's yellow and ready. The steering not registering when you try to turn the car does nothing but goes straight. The worst one is when you come in first but it says you were second or you come in second but it puts you in third. That is very annoying and has almost caused me to delete the game and leave a terrible review but I have hopes that this will be fixed asap. Not only does it not put you in the correct winners position but when you clearly come in first and it says second you get less coins which is very upsetting.
Get SkidStorm from App Store
What is your opinion about SkidStorm
Get more free apps & games daily
Subscribe to our mailing list and get free apps & games daily to your email inbox.
Thank you for subscribing.
Something went wrong.