(Game) Silly Sausage
 iphone games download free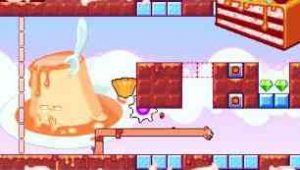 Game Description :
Pocketgamer Gold Award 9/10- You'll find yourself enjoying almost every second of the game
Our beloved stretchy dog is back in a brand new adventure in dessert land!
Game Features :
A brand new adventure with tons of dessert traps and enemies!
A unique stretch based mechanic.
Simple swipe to stretch controls (game-play with a single finger)
Epic boss battle!
New time-based challenge rooms (with cute collectable dog toys!)
One looooooong stretched out challenge with 50 restart points!
Risk based restart system.
Les Desserts:
Indulgent chocolate mousse crusher cakes.
Explosive glacé cherry on a bed of petit gateau.
Delicate wafer wall drizzled with a hint of poison.
Electric jellyfish threatening flan.
Poisoned spiky cream purée.
Prestigious bride and groom deadly layered cake.
Important information
This game contains third party advertising and cross promotion for other nitrome games, both which can be removed via a one time In App Purchase.
Additional Information :
Compatible with iPhone, iPad, and iPod touch.
Requires iOS 6.0 or later.
Size 90.2 MB
User Reviews :
Something is definitely missing. The original game was much easier to play with less odds and ends. Putting all this aside, it is a good game that is fun to play. It can also be very time consuming for those types of days.
Very entertaining, both this game and the "original" silly sausage. Challenging, but still very possible and you are able to complete it with a bit more thinking and dedication. Along with these aspects, it is fun to play. I found myself finishing the whole game very soon after I bought it. The game is also very well made considering it is free. Occasionally you will need to watch an ad, but it doesn't disappoint me too much because I am aware that it gives the developers some form of profit. I don't have to pay for the game, all I have to do is watch a video. I think most people would agree that is a great deal. If you are able, I would definitely enjoy a third edition to this game.
Okay, so I'm too stupid to beat the last level. But it was an amazing challenge and I was honestly surprised at how many levels there were! I mean, also the art style and story was so imaginative and fun, I was actually really addicted to a game I had got just to make a video on how weird it is, judging by the title. 11/10, please get it and support the creators! I love it so much!!!!
omg this was my favorite game since I bought my iPad and when I saw the new version of that I just went crazy I absolutely love it thanks for making a new game this game really makes me happy playing it.. thanks a million times I don't usually write reviews but this game deserves it please consider making a new games in the future just for the silly sausages
I've been a fan since nitrome's very first games years and years ago, and I've suffered through their ad spamming games on mobile devices. But this adventure was fun and generous on the ad cycles. It's one of those play once and forget games, but it's so much fun and one of their best.
I absolutely loved the first game, but this is the definitive Sausage game! The levels are challenging, fun, and unique, the controls are rock solid, and that all translates into a wonderful game. I would definitely love to see even MORE levels/games made for Sausage, it is such a great concept and the gameplay is so satisfying. Thanks Nitrome for an amazing game!
This game is so good I made it to level 50 but let me tell you something make the boss easier plz! it makes me so mad that I want to throw my phone out the window bty I'm 10 years old
This game makes me laugh so hard that when I failed I didn't even care!
Get Silly Sausage from App Store
What is your opinion about Silly Sausage
Get more free apps & games daily
Subscribe to our mailing list and get free apps & games daily to your email inbox.
Thank you for subscribing.
Something went wrong.