[Game] Shopping Mall Car Driving
iphone games download free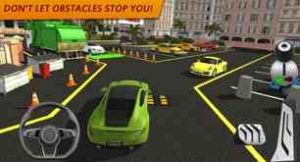 Game Description :
Shopping Mall car trip has never been this fun before!
Enter the busy lot outside the biggest shopping centre in the area! Pick one of the cars and show everyone how it's done!
Game Features :
NEW! Completely redesigned content!
NEW! New levels and progression
NEW! Improved, eye-catching visuals
NEW! Dynamic day/night system
NEW! New cars + enhanced car models
NEW! Better controls
10 awesome cars to choose from – sports cars, an SUV, a muscle car and more!
Exciting and detailed map to drive around
Multiple missions to complete for fun and challenge
The game features a sprawling, detailed Shopping Mall environment full of sharp turns, obstacles and narrow passages. If you've ever tried to find your spot in one of those places on a busy weekend afternoon, you may think you're pretty sure how it's going to go down…
Only this time you have the advantage of being the best driver in the fastest, slickest cars known to man! It's your opportunity to school others in how to drive with precision and style! Go ahead – it's your time to have some fun! Join the top drivers club and push your car to the limits!
You will get to choose from a variety of sports cars, a SUV, a muscle car and many others. Thanks to the dynamic day and night system the game will look differently depending on when you launch it. The detailed, eye-catching visuals will help you immerse yourself in the environment.
Additional Information :
Compatible with iPhone, iPad, and iPod touch.
Requires iOS 8.0 or later.
Size 205.8 MB
User reviews :
Ok, so this game is awesome, very addicting, but I can't go 1 minute without crashing!! (that is because I am horrible at the game) anyway I love this game! It is VERY addicting and keeps me on the edge of my seat!!! You should totally get this app!! I did not see anything wrong with it, except you only get 2 cars, but that is ok for me at least. And it is AWESOME I repeat AWESOME!! So that is some of the reasons I love this app.
This game is awesome but I think that they should update it to have blinkers and other things and maybe even allow people to be in it to make it more real because at real stores there is people there so maybe it would make the game more challenging thanks hope you take my advice
Love this game the only reason why I have rated this game 5 stars is because it is grate.. So the real reason why I rated this the way I did is because this game dose not freeze and it goes at you paste. Just my recommendation. I think you should have this game.
This a app is awesome it includes great driving. But my only concern is that there's only 15 levels I would really appreciate that you could add on more levels without buying it because I'm in college and I really don't need to buy anything.
It was laggy so I don't know if it was my iPad or the game but it is very fun to play if you love to have fun and crash and be on the edge of your seat then this is the game and be getting coins chose this very fun game.
I love this game so much why because and is hard and I like hard games. I don't play the mission I just drive around!
This game may have a lot of cars that make you crash but the game is fun so much fun it makes me feel like I'm on the auctal world
Get Shopping Mall Car Driving from App Store
What is your opinion about Shopping Mall Car Driving
Get more free apps & games daily
Subscribe to our mailing list and get free apps & games daily to your email inbox.
Thank you for subscribing.
Something went wrong.