(Game) RoverCraft Space Racing
iphone games for free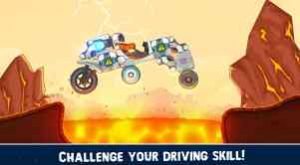 Game Description :
RoverCraft is an exciting arcade journey, played on the hills of distant planets on a rover constructed by you. Since you design your vehicle, its success depends on YOU!!
Equip your vehicle with jet engines, reactors, super-wheels and plenty of other upgrades and take the challenge of climbing the steep mountains of exotic planets. Drive your monster rover carefully – there are many dangers ahead. You might run out of fuel, meet a steep and rugged slope, your vehicle may lose its wheels, or your pilot may get a tear in his space suit.
Game Features :
14 different planets to race on (more to come soon)
Advanced realistic physics engine
Player can create endless types of rovers
The game is a mix of crafting and racing making it fun for all ages
Universal app
Free to play
Master the most unusual terrains of unknown planets. Navigate across the planets and get to the mothership! Play for free now.
Additional Information :
Compatible with iPhone, iPad, and iPod touch.
Requires iOS 11.0 or later.
Size 465.9 MB
User Reviews :
RoverCraft, to put it simply is a space version of hill climb, but with a more bad piggies vibe, as you can build your own vehicle, which I love! But there are some flaws that could be fixed very easily, such as how long progression takes.. everything is very expensive to buy (with in game currency mind you) and getting coins is quite a haul, but this does make it a good time waster, but I feel as if everything is really overpriced and could be easily lowered, to put it simply, they are kind of pushing you to buy there coin packs and such, but other than that the game is very fun and can really take up that long train or car ride.
The game is very fun and challenging for those that have not yet beaten the main planet levels. For those who are on the challenges, it is quickly apparent how many of these levels are literally impossible. And you can't just say I'm not good enough because nobody else has been able to beat them either. Once you have beaten all the planets and the challenges that are either random chance or just plain easy, there is nothing to do in the game other than grind for coins, which are pointless if you have beaten all the planets. As for the speed challenges, all they are is "who has unlocked all the exhausts? Well congrats you win!" You call yourselves a racing game, but there are no racing elements. If you could race against other people (Racing NOT time trials), then this game would be fun to play and the grind would be worth it. Or if we could make our own levels and upload them to a database from which we could play each other's levels, your game would be good. I see a lot of potential in this game but you are not working towards making this game better as all the last updates have all been bug fixes
I really love this game I have played it for a really long time But, I think we need some new content. once you beat the main planets, challenges, and collect all of the parts you want the fun is pretty much over. I wish we had more stuff to do like actual racing for example (not just time trials) I mean it is in the apps name. Also we need new parts like a hover pad or a new thruster (like a helicopter blade perhaps) or straight up tank tracks. Maybe a new mode would be nice like a sandbox with a really big building area and a lot of little paths with little Easter eggs at the end or something I don't know but I really want to be able to do more with this game. P.s. I think you dev's should add paint or some thing so people can let their artistic side show and some sort of platform to show them off like steam's workshop
Get RoverCraft Space Racing from App Store
What is your opinion about RoverCraft Space Racing
Get more free apps & games daily
Subscribe to our mailing list and get free apps & games daily to your email inbox.
Thank you for subscribing.
Something went wrong.