(Game) Rocket Cars
iphone games download for free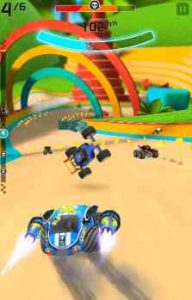 Game Description :
The creators of Touchgrind Skate2, Touchgrind BMX and Mr. Crab now bring you the breathtaking and extremely addictive car racing game Rocket Cars.
Game Features :
Strap in and rocket through the offroad Desert tracks, boost through the picturesque Wooden landscape and then blow your opponents away in the challenging Copper world. Upgrade your cars and compete against increasingly difficult ai cars in 60+ levels and prove that you have what it takes to win.
RACE MONSTER TRUCKS, BUGGIES, PICKUPS and loads of other cars that will do anything to stop you in the supercharged arcade racer Rocket Cars!
UNIQUE SINGLE TOUCH CONTROLS make the car feel like an extension of yourself when playing this endless fun, pulsating and solid racer game that will surely give you hours of exhilarating game play.
PERFORM DAREDEVIL TRICKS to gain boost fuel and to avoid a wide range of opponent cars trying to prevent you from reaching the goal first.
KNOCK OUT OPPONENTS OR USE SHOCKWAVES AND MISSILES to literally blow them off the track to complete the objective of the race before they beat you to the goal.
PLAY THIS COMPETITIVE, SUPER FAST racing game including 5 free cars and another 10 cars throughout the game.
COMPETE IN 5 GAME MODES ON 50 TRACKS, all uniquely tailored where your skills and patience will be pushed to the limit.
USE UPGRADES to reach the cars' full potential. Upgrade power-ups to make sure that your opponents won't stay in your way for too long.
RACE THROUGH THE BEAUTIFUL WORLD of Rocket Cars and speed through amazing locations.
ENTERTAINING MISSIONS AND DAILY CHALLENGES let you earn extra coins and gems to maximise your chance of winning. Find more rewards along the way.
FEATURES
5 car categories and 15 racing cars with individual upgrades and characteristics
67 amazing levels
5 thrilling game modes – elimination, position, time gates, time pickup and time trial
5 beautiful environments
Stunning 3D graphics and physics simulation
Easy to learn, one finger controls
Each car has specific strengths and weaknesses
Missions and daily challenges
This game is free to play but it offers in-app-purchases. You may disable in-app-purchasing using your device's settings
Additional Information :
Compatible with iPhone, iPad, and iPod touch.
Requires iOS 7.0 or later.
Size 154.9 MB
User Reviews :
Beat the clock, be first to the finish line—you'll enjoy all kinds of tense competition in this spectacular arcade racer. Built by the makers of Mr. Crab and Touchgrind BMX, Rocket Cars will wow you with its immersive one-touch controls and head-turning graphics. We're not sure which we love most: bashing into rivals, taking colossal jumps, or performing crazy flips with a double-decker bus.
I've had a great time playing this awesome mobile racing game but I'm starting to encounter too many glitches. More than I care to say. Steering is a hit or miss but turbos are fun. I expect a certain standard with free games and I'm proud to say this is in a league into its own. Bravo
This game is theoretically great, good clean fun for any age 4-100, and *would* be 5 stars, except… THE HORROR.There is great incentive to click the "Get Gems" button, which plays ads for other games. Do you really want your kids watching ads for Zombie Frontier 3 over and over? Mine keep waking me up with nightmares. The bullet goes in slow motion right into the distorted and disturbing face of the zombie, killing him (again) in an explosion of blood.There are also videos of assassinations, shooting up with hypodermics, firing assault weapons.The whole reason for getting your kid an animated car race is because it's fun, without being gory or disturbing. FAIL.And I didn't even mention the casino and poker ads, with low-cut blouses. Note that we even paid the in-app purchase to "remove ads."
Get Rocket Cars from App Store
What is your opinion about Rocket Cars
Get more free apps & games daily
Subscribe to our mailing list and get free apps & games daily to your email inbox.
Thank you for subscribing.
Something went wrong.