(Game) Roblox
 iphone games download free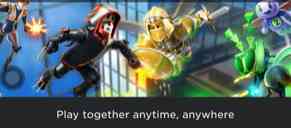 Game Description :
Roblox is the ultimate virtual universe that lets you play, create, and be anything you can imagine. Join millions of players and discover an infinite variety of immersive worlds created by a global community!
Already have an account? Log in with your existing Roblox account and play now!
Game Features :
MILLIONS OF WORLDS TO EXPLORE
In the mood for an epic role-playing adventure? Want to compete against rivals worldwide? Or do you just want to hang out and chat with your friends online? A growing library of worlds created by the community means there's always something new and exciting for you to play every day.
PLAY TOGETHER ANYTIME, ANYWHERE
Take the fun on the go. Roblox features full cross-platform support, meaning you can play with your friends and millions of other people on their computers, mobile devices, Xbox One, or VR headsets.
BE ANYTHING YOU CAN IMAGINE
Be creative and show off your unique style! Customize your avatar with tons of hats, shirts, faces, gear, and more. With an ever-expanding catalog of items, there's no limit to the looks you can create.
CHAT WITH FRIENDS
Hang out with friends around the world using chat features, private messages, and groups!
SUPPORT: en.help.roblox.com/hc/en-us
CONTACT: corp.roblox.com/contact/
PRIVACY POLICY: www.roblox.com/info/privacy
TERMS OF USE: www.roblox.com/info/terms
PARENT'S GUIDE: corp.roblox.com/parents/
PLEASE NOTE: A network connection is required to play. Roblox games work best over Wi-Fi.
Additional Information :
Compatible with iPhone, iPad, and iPod touch.
Requires iOS 8.0 or later.
Size 180.6 MB
User Reviews :
Overall I do think this game is pretty good, just a couple things could be better. One thing that I've been having trouble with, is that on certain games while playing on mobile, it doesn't let you join. It just kicks you out of the game. I wish that didn't really happen because there are a lot of people that only have access to a mobile device to play this game, so I feel that should be fixed so people have a bigger variety of games. Another thing is, GLITCHING. It happens so much on games!! I know it's hard to fix but just on any device there are certain glitches on games that can make people cheat and like some people call it "break the game." The lagging is another thing I think the game creators should decrease the amount of players that are allowed in the game. In my case, that is what is causing most of the lag. The final thing I would like to change is the way you get robux. A lot of people can't afford to buy it or are not allowed to. You can do so many different things with robux and people without it are feeling left out or jealous of other people. I think you should be able to earn robux by doing certain thing or completing a task in a game for free. I think it's just more fair that way. But if you want to buy extra robux or something THAT could cost money, but overall it should be free. I do really like this game and it is so entertaining and fun. I love the fact that you can play with your friends and make new ones!!
You should definitely download this game and today I will tell you why? I have been playing this game for two years now with my friends on discord and it's has been an amazing adventure! One of my favorites parts about roblox is that you have many games to choose from and my personal favorites are sacrifice sanctuary and jail break and much more scary games because I love horror stuff. But if your a girly girl don't worry there is also bloxburg and meepcity but royal high is most likely the best for girly girls if you are one, so there is many different games you can choose from infact there is over one million games! Roblox is a free game but robux is not you have to buy robux it's not no expensive. In 2016 they did this thing were you can make your own game on builders club but sadly no more builders club but there is now roblox premium and if you buy it you can make your own games and get robux monthly. You don't have to get robux because you can still play the games without it. You can mostly buy robux with customs clothes and game passes and some games. There is only one problem about roblox there is trollers exploiters and even hackers but don't worry if you see an exploiter or troller report them and roblox will warn them ban them or even account delete them but if you see a hacker leave the game right away and roblox will find that hacker and ban them. But over all roblox is the best game yasssss!
Get Roblox from App Store
What is your opinion about Roblox
Get more free apps & games daily
Subscribe to our mailing list and get free apps & games daily to your email inbox.
Thank you for subscribing.
Something went wrong.