(Game) Retro Bowl
 iphone games download free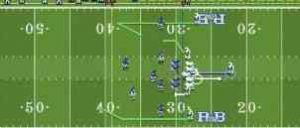 Game Description :
Retro Bowl is the perfect game for the armchair quarterback to finally prove a point.
Game Features :
Presented in a glorious retro style, the game has simple roster management, including press duties and the handling of fragile egos, while on the field you get to call the shots. Can you pass the grade and take your team all the way to the ultimate prize? Can you win the Retro Bowl?
Additional Information :
Compatible with iPhone, iPad, and iPod touch.
Requires iOS 9.3 or later.
Size 24 MB
User Reviews :
I originally downloaded this game never hearing about it beforehand, played through the first three games, and came across the wall to purchase the rest of the game. For $1. After paying that $1 I have put countless hours into this game building different teams, coaching staffs, and mastering the different concepts the game had to offer. Before the most recent update, I believed it was too easy to score field goals — which was quickly remedied as it is now more difficult which is GOOD. This simple mobile game provides the GM experience you would like to see in an official EA Madden game, but simplifies the gameplay to offensive efforts only, having the defense simulate itself. Playing against teams you've built in the prior year can become your worst enemy as you're going against your own evil creation. You can call audibles, timeouts, cut players, praise/fine players for certain actions, and so much more. The only recommendation I have for the developers of this game (if possible) is to try and implement a lateral system so the football can be passed off to another player close by to avoid a tackle, but with a higher chance of fumbling. Other than that, this game is an absolute must. Even if you know NOTHING about football, you will quickly pick it up and never want to put it down.
Getting into this game has taught me how football works. No other football game has taken me past confusion with football and into understanding like this one. Like, I knew nothing about football before playing this game, nothing, and now I understand a lot! I was obsessed with this game for a while, but after a certain point I felt like there was no challenge. Every game basically plays the same way. Especially after optimizing my team, I started crushing almost every game except maybe one or two in a season. Starting a new game doesn't rekindle my interest either because the games still all play the same. I'm not sure what I'd like to see change. But I HIGHLY recommend this game all the same. Especially if it's free! Edit: Actually I'd like to play defense. Right now you don't actually play when the other team has the ball, text comes up that tells you what's happening and you don't control any of it until you get control again. If you have a low star defense, you can expect an opposing team to score every time they get the ball, making every interception devastating, and you can't do anything about it. It would be nice to have more control in order to mitigate this and also it'd just be fun! Still highly recommend.
Hey guys, I hope you can see this review because I am going to say a couple ideas or features to implement into the game to make it much better than it already is. Listen, I am in no way criticizing this game because it is by far my favorite game on my phone. Now I think it would be a great idea to make drafting a bit harder, right now I can find the best player and see their potential, you should have a feature where you can see the players star range, like from 3-4 stars, but cannot see much of their stats until you draft them. Next, there is a couple of plays that are broken on the offense, meaning I can exploit them for easy yards. An example is the play where the top WR runs and cuts up toward the sideline, I can usually see that the CB that is supposed to be covering him just runs straight back and just leaves the WR uncovered. Lastly, I would love to see running be a bit easier because even if I have a 5 star running back, I still can only get a few 15+ yard runs a season. And also, I think it would be pretty cool to add some new plays like trick plays, and maybe online multiplayer? Thank you for taking the time to read this, and I can say that this game is and will always stay a work of art
Get Retro Bowl from App Store
What is your opinion about Retro Bowl
Get more free apps & games daily
Subscribe to our mailing list and get free apps & games daily to your email inbox.
Thank you for subscribing.
Something went wrong.