(Game) Rc Plane 2
iphone games for free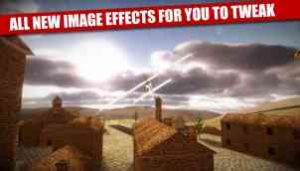 Game Description :
Introducing the most realistic RC Plane game and sim for iOS with 6 new game modes, 17 planes to pick from and Game Center achievement and leaderboard integration.
The graphics and gameplay in this universal app are stunning and optimized across a range of supported Apple devices with specific optimizations for iPhone 4 Retina Display and both iPad and iPad 2. Check it out now.
Game Features :
Stunning environments: Tuscany and Seaside free and other 6 to purchase.
Game Center leaderboard and achievement integration
Many Air Race Tracks
Four planes: 3 Ch Cruiser; 3 Ch Fighter 29 Jet; 4 Ch Cruiser; 4 Ch Stunt Plane and over 30 other to purchase
5 Training lessons ranging from 3 Ch takeoff to 4 Ch advanced rudder use.
Free Flight
3 Camera views: 3rd person; in-cockpit; fixed position
In-App Purchase Bundles
Carrier Ops Aircraft Carrier game mode with F-4 Corsair and ARF-18 Jet Fighter
Airbus game with two Passenger Liners and one Jumbo Liner
Bird Catcher game with 3 Ch Beachcraft (the pros will like this one)
Fire Fighter Water Plane game with 4 Ch Firefighter Water Plane and 4 Ch Hydro Cruiser.
Road Runner game with f202 Fighter Plane
Cargo mode with RC-130 Cargo Transport Plane
Spitfire WWII plane
European Fighter plane
Realistic 4 Ch Mountaincraft Air Rocker plane
Updated Control Scheme
Real time tweaking of any channel in-game, on the fly.
Custom rudder control for both beginner and advanced mode.
Accelerometer support
Significantly improved controls.
4 remote modes supported
5 Training Lessons
Save yourself lots of frustration and $ and learn the basics of RC Plane flying on this beautiful sim on your iPhone or iPad. From 3 Ch takeoff to advanced 4 Ch controls, this will give you confidence and a great start.
Enjoy and don't forget to check out our latest titles RC Plane Explorer and RC Plane 3 !
Additional Information :
Compatible with iPhone, iPad, and iPod touch.
Requires iOS 8.0 or later.
Size 386.6 MB
User Reviews :
This app is literally the best app ever. I absolutely love it. Although, I do have a few suggestions for "Tuscany". Since there are little houses by themselves, you should be able to turn around there. Also, if you're really close to the runway but barely miss it, I think you should be able to get onto the runway. Other than those things, I think the app is positively awesome. Ignore all who say it's not. Oh yeah, and the people who said there was a bug, it's fixed now, just a little update. I also have a suggestion to fellow flyers, if you ever find yourself bored with the app, try this: use the camo jet and go around to every settlement and land successfully. It's a good way to stay addicted. Don't get mad, it takes tons of practice and the camo jet is harder than the normal planes, in my opinion.
This app is old but do not let that deceive you! Sure the graphics aren't as good as most but who cares the gameplay is fun and addictive and the app is constantly being updated by the amazing devs despite there being a sequel to the game(which in my opinion is not as good as this one)All around an amazing game P.S.: don't listen to the dude whining about fuel, there isn't even a fuel system so you can fly forever.
Get Rc Plane 2 from App Store
What is your opinion about Rc Plane 2
Get more free apps & games daily
Subscribe to our mailing list and get free apps & games daily to your email inbox.
Thank you for subscribing.
Something went wrong.