(App) QuickThoughts – Earn Rewards
 iphone apps for free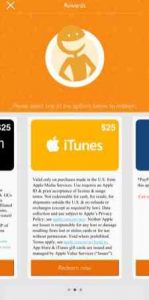 App Description :
QuickThoughts rewards you with FREE iTunes Gift Cards for sharing your thoughts via quick surveys and local survey events! Earn rewards on the go and redeem them for free $10 gift cards!
Select from thousands of surveys right on your phone, or check in at local retailers and take photos to earn gift card rewards on the go. Pick from a wide variety of surveys and polls ranging from quick surveys to in-depth questionnaires- you can even embark on real life GPS-based activities to earn gift cards at your favorite stores!
Each survey rewards up to $3, and local activities pay up to $5. Once you hit your first $10, you can cash out for a FREE iTunes gift card!
Have fun, share your thoughts, and get rewarded with QuickThoughts!
App Features :
Earn Free Gift Cards for Surveys
QuickThoughts offers paid surveys from thousands of sources on hundreds of subjects. You'll never run out of chances to earn iTunes gift card rewards, just for sharing your opinion with real sources that value your thoughts!
Share Your Opinion
QuickThoughts partners with companies that want to hear YOUR opinion to make their products and services better fit to what you like. Get your voice heard and help make a change – plus earn some free rewards along the way.
Earn Up to $3 Per Survey
Each survey is different, and so is each reward! Longer polls and in-person activities can compensate you more, while shorter surveys give you a quick boost to your balance. When you hit your first $10 in points, you can trade them in for a free gift card!
Redeem Points for iTunes Gift Cards
Trade in the points you get from surveys for free iTunes gift cards! The dollar amount in your in-app wallet is the same amount you'll receive in your iTunes wallet – no secret exchange rates or hidden fees.
Check In With Local Photo Activities
Use the "Find Local Activities" feature to scan the area around you for location based survey opportunities. Then, travel to nearby locations and provide your feedback to retailers through fun photo activities. Earn up to $5 per survey for going on an adventure!
Marketing agents and local businesses want to reward you for your opinion! Take quick polls from your phone or head into the field to take photo surveys, and exchange your points to get free iTunes gift cards!
You could be earning right now! Download QuickThoughts and share your opinions today!
Signing up is easy and safe. Must be 18 or over. Not available in all countries.
Disclaimer:
The application uses GPS in the both background and foreground to qualify you for surveys based on your location and to enable the "Activities" functionality.
Continued use of GPS running in the background can dramatically decrease battery life.
You may disable location for QuickThoughts, but this will limit available survey opportunities and disable the "Activities" functionality.
Additional Information :
Compatible with iPhone, iPad, and iPod touch.
Requires iOS 10.0 or later.
Size 177.4 MB
User Reviews :
Obviously this is not the first survey app I have ever tried, but out of all of them this one is the best. I love spending money on games so the 10$ iTunes gift card you get for redeeming every 10$ you get from surveys is great. Unlike other Survey apps this app gives me from 1$ – 5$ on one survey depending on what type it is, and if the survey is not for you they still give you 10 cents for your troubles. I also really like how if there is a problem you send them there issue and in under 24hrs they will contact you back. I recently had a problem where I was halfway through a survey and I was kicked from it because of my internet, actually this happened twice. I contacted them about it and they gave me my 2$. I know this because my balance went from 7.20$ to 9.20$. The one thing that is really big is it isn't a scam like others or you have to do like 700 videos to get like on thing, in two days I made 10$ and it only took me 20 – 30min a day, now tell me that isn't good. Know I cannot force you to download the app but you can. Really just try it out I did and I don't regret it. Thank you for listening.
This is a pretty solid app when it comes to survey taking. I like that they tend to offer higher rewards for each survey opportunity afforded to you, especially compared to other apps/websites that offer the same. The only problems I have encountered so far are technical ones. I experienced a situation a few minutes ago where I was more than halfway into my $2.00 survey that I had qualified for and each time I tried to click the 'next' button to move on to the next screen, the app would glitch and refuse to move. After waiting several minutes for it to fix itself, I was given an error message instead and lost all chances of completing it for my reward. This is understandable if it happens in the beginning when you are trying to qualify for surveys, but it becomes unforgivable when you are qualified and have already dedicated your time to completing it when it kicks you out due to technical issues. I would be more willing to overlook it this once if it wasn't happening as much as it is. I feel as though this app has great potential and just needs to focus of perfecting these types of technical difficulties so they don't lose users.
Get QuickThoughts from App Store
Leave your feedback regarding QuickThoughts
Get more free apps & games daily
Subscribe to our mailing list and get free apps & games daily to your email inbox.
Thank you for subscribing.
Something went wrong.