(App) Pinterest
iphone apps for free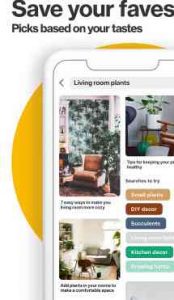 App Description :
Looking for inspiration? Whether you're designing a home or searching for travel ideas, good ideas start on Pinterest.
Explore over 100 billion new ideas for every part of your life, from what haircut to get to what to make for dinner. Create extra storage space in your home, turn an old t-shirt into a stylish dress, or plan your next vacation with Pinterest.
App Features :
3 Reasons to start finding and saving ideas on Pinterest:
1. Discover everyday inspiration and explore articles on trending and recommended topics.
2. Collaborate with friends for your next group trip, party or project.
3. See an idea out in the world that you like? Just snap a photo of it with Pinterest Lens to find how to buy, make, or do it!
Discover new possibilities and save what you find. Find inspirational ideas from anywhere on the internet.
Get ideas for the topics you care about most:
Travel and fitness tips
Fashion and style
Home design and architecture
Food and cooking
Wedding inspiration
Download Pinterest now to start exploring possibilities for your next project.
Additional information :
Compatible with iPhone, iPad, and iPod touch.
Requires iOS 9.0 or later.
Size 179 MB
User Reviews :
We're completely addicted to finding and pinning creative ideas, tasty recipes, and more. Pinterest's wonderfully designed app is a constant source of inspiration, whether you're planning a trip, remodeling your home, or finding something to wear. With a bevy of helpful features—from collaborative boards to built-in messaging—Pinterest is an exceptionally visual way to explore what matters to you.
Everytime this app updates it becomes worse and worse, like I genuinely love Pinterest but I cant stand the updates it has, most of the time they are so annoying, other times it's okay but that was only when you had the selection option and you can arrange things but now you have gotten rid of it and now I can't even stand it anymore, I'm tired of seeing ads like every other pin than the ones I actually want to see, like I understand that it's a free app and all but why every other pin be an ad??? It wasn't like that before?? I see them so much that I just have to hide them and why is the hide option right next to the pin option too? That literally made things so confusing for the people who used it long time and would accidently hide a pin (personal experience) and sometimes there isn't an option to unhide either so your stuck with that pin gone forever. I will still use the app it's just much more unnecessary things here and there than what the consumer wants, or what I want. I still think it's a great app I just don't think these updates actually help Pinterest in anyway just making it worse than it actually is, Please start taking more consideration to the people who use Pinterest and figure out what is actually needed and what actually needs to be fixed before destroying the app. Thank you for reading
I love Pinterest but if you're going to update the app and give me options of things to do, don't take it away! I used to be able to like pins if I didn't have a board to put it in. I can "react" to certain pictures but I can only use one reactions option and it's not for all pins. So now I have a bunch of pointless boards so I can still see things that I like. I loved having the option of sections in boards because if I have a "house work" board I can do a section with the bathroom, the bedroom, the living room, etc. It was a while since I updated and when I finally did, I wish I hadn't. I went to create sections for my travel board based on places to make it easier to plan my own trips and I can't! I'm actually mad about this. And something that isn't really a major issue but kinda disappointing is that when I come across a pin that I like and want to see more of, I tap on it. But sometimes it's just an add and it takes me to a website. Which I guess I can see more by going through the website but I can usually access the website if I voluntarily tap on the picture after getting a preview. This is also the only app that closes out on me. I know it's a free app and it takes a while to give the app its full potential but this isn't really a new app anymore. Keep updates!!! When you bring in a new feature, don't take it away from us! Some of us are (more like were) using those
Get Pinterest from App Store
What is your opinion about Pinterest
Get more free apps & games daily
Subscribe to our mailing list and get free apps & games daily to your email inbox.
Thank you for subscribing.
Something went wrong.