(Game) Photo Finish Horse Racing
iphone games for free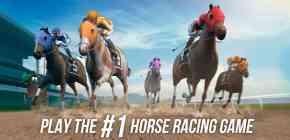 Game Description :
The best horse racing series on mobile!
Can you win the Cup and take the Crown of Horse Racing? The Quest has begun!
Hire a jockey, train your horse, and compete in a variety of races from a local derby all the way up to winning the quest for the Cup! Photo Finish Horse Racing is the ultimate horse race simulation, featuring lifelike animation, stellar graphics, addictive gameplay and intense competition. Live the life of a jockey, owner, and spectator in the Sport of Kings!
Play a quick race in a spare minute, or battle your way through the major derby to win the Cup!
Game Features :
CHAMPIONSHIPS:
Breeder, Jockey, Cup Champion. Triple the roles, triple the fun. Be it all in Photo Finish Horse Racing!
Have Kentucky dreams? Belmont ambitions? Intentions for Epsom? Start your racing quest now!
Will you earn your crown as Champion? Breed a championship caliber horse to win
Rise in ranks until the day comes – the day you race in the derby! Get to the stable and get going!
BREEDING:
Develop your stable and breed the ultimate stallion!
Do you have what it takes to be the best breeder? Breed the best to beat the best!
Make your stable a haven for the fastest horses!
RACING EXPERIENCE:
Triple your rewards in online stakes!
Graphics so good you'll think you're racing in VR!
Race every day to reach the haven of the success!
Race online against players from Belmont to Epsom!
TESTIMONIALS:
Lloydo 2000 – "fantastic game, honestly the best I've played on my phone."
Hannabooba – "This game is amazing if you haven 't downloaded yet, go download now"
Jungnshjej – "I love how you can breed the horses and enter contests"
Oh My Gosh Shelby A Wolf – "OH MY GOSH LUV IT!!!"
Hemlock Stable – "I love every aspect of this game"
Matfat – "I've been playing this game every day for two weeks!"
Spilla R. – "It is exactly like being in the Kentucky Derby, but being in it"
Erica I. – "wish each tier of horse could have triple crown depending on their record for their season" – Added more races to every tier!
Luke W. – "create your own jockey, name your horse, race others online, all this on a phone"
Shah S. – "Best horse racing game I have ever seen in my lifetime"
Miguel N. – "Fun chance to play all roles – jockey, trainer, breeder and owner"
Well, what are you waiting for? You haven't begun your quest for the crown!
PLEASE NOTE! Photo Finish Horse Racing is free to play, but it contains items that can be purchased for real money.
Meet other players and find out more about Photo Finish Horse Racing:
Facebook: www.facebook.com/photofinishgame
Twitter: @photofinishgame (twitter.com/photofinishgame)
Privacy Policy: bit.ly/ThirdTimePRIVACY
Terms of Service: bit.ly/ThirdTimeTOS
Note: Kentucky, Belmont, and Epsom are examples of cities and states our players have played in. No race takes place in Kentucky, Belmont, or Epsom. VR not supported, though we do love VR as much as the next VR enthusiast.
Additional Information :
Compatible with iPhone, iPad, and iPod touch.
Requires iOS 10.0 or later.
Size 289 MB
User Reviews :
This game is great, and the description isn't lying: it is the best horse racing game I have ever played. But, after each race if you don't come in 1st place it says, "YOU LOST!" in all caps with a explanation point. I find this very annoying because it is very negative and it states it as though if you don't get first place, you must be dead last (6th place). Please change this to something more positive or at least "You lost…". Also, you have very few starting horseshoes and the only way to get a rare horse is to a) use real money for horseshoes or b) waste a couple years saving up (of course, there is option c) do a lot of unnecessary stuff too). On the other hand, there is great graphics and it is fun but not too hard or too easy. There is a bit of strategy to balance speed and stamina in the longer races too, and this is nice. Overall, I love this awesome game and give it 5 1/2 stars. If you haven't downloaded it yet, I would recommend doing so right now!
There aren't many horse games like this. A lot of horse games usually have so many things wrong, I can see that the people who made this game knew about horses. In other games, they don't make the riders with their heels down, they don't have the right tack for the discipline they are doing, and a lot of other things. On this game, I can see that the jockeys have their heels down and they have the right tack. I have seen games that use western saddles in show-jumping… Okay enough about what this game has and other don't lol I LOVE this game and it is amazing. One thing is that you should be able to rename your horse. I accidentally named my horse a name I didn't want. But that's all, this game is great.
Get Photo Finish Horse Racing from App Store
What is your opinion about Photo Finish Horse Racing
Get more free apps & games daily
Subscribe to our mailing list and get free apps & games daily to your email inbox.
Thank you for subscribing.
Something went wrong.