(Game) Offroad Outlaws
free games for iphone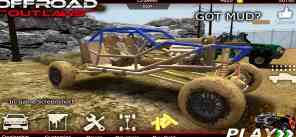 Game Description :
Mud. Dirt. Rocks. Multiplayer. Trucks. Customizations. Diesel swaps. Quads. Crawlers. SxS. Free. It goes on and on. Stop reading, just download now!
Offroad Outlaws gives you what you want in an off-road game: Complete control over how you build, setup, and drive your rig, tons of challenges to complete, and multiplayer so you can explore the open-world trails with your friends.
Game Features :
CONTROL
You build your rig the way you want it. You have total control over chassis setup – stiffness, damping, travel, etc… and can even swap to a different type of suspension if you want (want a modern truck with an I-Beam setup in front, and a solid axle in back? No problem.) For vehicle control you're given Tilt, Arrow, or on-screen Steering wheel controls. You choose!
DRIVE
With several maps to choose from you can drive your rig slow across challenging rock routes, or fast over the flat sands of the desert. Want to take a break from the trails? Go play in the stunt park where you can use the ramps to "test" your rig's durability.
MULTIPLAYER
Explore the trails with your friends or other players, or battle it out in the capture-the-flag mode! Race up mountains, rock trails, or through rivers with friends!
Note: By joining as an Offroad Outlaws Member, you are agreeing to an auto-renewing monthly subscription plan (unless auto-renew is turned off) that will automatically be charged every month through your iTunes account for $4.99 within 24 hours prior to the end of the current subscription period. You will be charged $4.99 for the first month immediately after your purchase is confirmed. To manage this subscription, or turn auto-renewal off, go to Account Settings after purchase.
For Privacy Policy visit: racerslog.net/ooprivacy.html
For Terms and Conditions visit: racerslog.net/ooterms.html
Additional Information :
Compatible with iPhone, iPad, and iPod touch.
Requires iOS 7.0 or later.
Size 383.9 MB
User Reviews :
I've been playing this game for a year. Love it. Spent several hours building trucks, got 23,759xp, 29 vehicles, and lots of in game money. This recent update made me loose all of it, and he worst part is that the "woodlands map" doesn't load, the game crashes every time on a iPhone. So even though I reinstalled the game, I cant even earn one dollar to get upgrades and gear because the game crashes every time I try to play. Since the game doesn't remember your gamer Identity, all progress is lost. This game is better than Gigabit Offroad ever dreams of being but a 80's game works better than this since it crashes all the time and you can't level up! It's very frustrating, and I hope the people that made this game fixes this serious problem soon. I also hope they add a Jeep Cj8 scrambler to the game as well as a Jeep cj5, "new" Jeep Gladiator and a Ram power wagon to go along with old one that's already in the game. I've probably played this game over 300 hours and totally lost everything…so maybe the developers will fix??? Possibly give me back my progress I lost from faulty coding??? Add gamer ID??? This game is great but some very BIG buggs have to be worked out. This isn't my phone because it's a pretty new phone and my friends have a IPhone X something, and a Samsung Galaxy (recent one), and it doesn't work on their phone either…. Do great idea and great game but needs lots of help…..
Yes could y'all do a feature where you can turn the fuel up like on a truck in real life where if you want it to smoke and fog the street that would be nice and way better graphics and maybe some Cummins Duramax's and Powerstrokes heck if you can do a feature where you can have a goose neck trailer where you can drive the trucks and atvs on and off maybe even tractors and disk and gators and some Polaris hell everything you can possibly think of that's as close as you can to get it to the most realistic real world game maybe throw some cars in with it heck i don't know all I know is I play this game freakin every day I've probably spent like 100 bucks on gold and I love it I'd just love some realistic graphics like better mud when you drive into it it slings on the truck, trailer and the toy on the trailer if y'all can make it where you can drive to states where the terrain gets different and there are houses and maybe even traffic idk I'm probably thinking to much but I really like this game I just want something thats only just a dream but I know everybody is wanting some better graphics and some better parts like injectors bigger turbos and real world tires and we want every style truck that came out including Dullys thanks for your time and can't wait if y'all will do this to the game!!!
Get Offroad Outlaws from App Store
What is your opinion about Offroad Outlaws
Get more free apps & games daily
Subscribe to our mailing list and get free apps & games daily to your email inbox.
Thank you for subscribing.
Something went wrong.