(Game) Offroad 4×4 Driving Simulator 3D – Multi level offroad car building and climbing
iphone games for free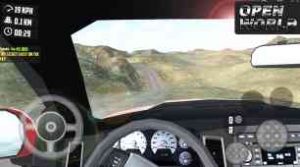 Game Description :
Have your ever build your own offroad 4×4 vehicle ? Collect 4×4 offroad car parts and build your own 4×4 vehicle, and drive freely in massive open world. Enjoy the realistic physics, detailed, offroad 4×4 vehicles. Bring the real offroading driver in you and conquer the mountains, hills, desserts. Ride to canyons, climb the hills, be the 4×4 climber of your dreams.
Game Features :
Giant open world man for 4×4 offroad driving, all unlimited free drive
Great environments ( mountains, hills, dirt roads )
Precise offroad physics, real time reflections
3 game play modes ( free ride, build vehicle multi levels, endless chest collection )
5 amazing offroad 4×4 cars ( including jeep and hummer )
All offroad 4×4 vehicles are upgradable ( motor, brake, grip, steer, etc… )
Upgradable colors, tyres and new add-on system
New multi level system, collect car parts and build your vehicle
Real time car damage, smoke, dust effect
Turbo jump and car damage repairs
Very easy mobile touch controls ( including steering wheel )
Different camera options ( including interior camera with turning steer wheel )
Daily chest missions
This game is suitable for children and kids ( boy or girl )
Support
Please email us or use our social media about anything you need to state
We will be delighted if you enlighten us about new features you want in our games.
Thank you
We wish for you the best real game play experience in 2016
This free game developed by ume games ( ultra mad entertainers )
Additional Information :
Compatible with iPhone, iPad, and iPod touch.
Requires iOS 7.1 or later.
Size 137.7 MB
User Reviews :
This game may look like a generic off-roader from the outside, but on the inside it's actually a pretty fun game. Its has amazing crash physics because crashing your car actually affects how your car performs. I've never seen this in any other off-roading game. I was pleasantly surprised by how well made this game was made. I would like more maps though. Then the game would be perfect in my opinion. Keep up the good work guys!
So far this is one of the best off-road games I've played. I like the open terrain and the different challenges. However, the amount of vehicles are limited. With how much terrain is available the game has a lot more potential. The vehicles really need actual off-road tires for this type of terrain, not city slicker tires and wheels for impressing other parents at the kid's soccer practice. With my game play it seemed to glitch hard when rolling so it makes it even harder to recover and at times the terrain would change when climbing a hill. Also, I tried jumping over a building and it was really an invisible high riser. Don't let the single story building fool you. I jumped well over the top of this building and I was shutdown from going over it. Even though there are a few rough edges to the game, the game play is still really fun and for free I can't really complain. I would recommend this to anyone who does like off-road games. If I were to give 1 suggestion to the game maker it would be that the vehicles need bigger tires for this type of terrain and it's time limits. Even if you had to earn those off-road tires it would be well worth it.
When I first started this game I wasn't too into it because it has no mini map, And the meshing system isn't the best. But as time has passed and progress has been made I'm really into this game. But their are some things that made this a 4 star not a 5, And that is again the meshing system. if you were driving on a hill and you are going down you cannot manage a speed increase but instead you will be smacking into a wall completely abolishing any momentum you have, Or will just throw you into the air doing flips. Another problem I have eight the game is the amount of cars, It can have so much more potential if you get more vehicles to drive with different maps. And I know it's a stretch but multiplayer would raise the bar in this game. Again that would be harder to do to maintain its quality but these are just suggestions.
Get Offroad 4×4 Driving Simulator 3D from App Store
What is your opinion about Offroad 4×4 Driving Simulator 3D
Get more free apps & games daily
Subscribe to our mailing list and get free apps & games daily to your email inbox.
Thank you for subscribing.
Something went wrong.