(Game) Nitro RC
 iphone games for free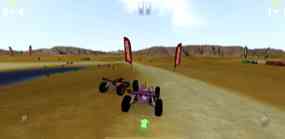 Game Description :
Explore the world of gas powered radio controlled vehicles.
Do you prefer an all-terrain rock crawler or a fast dune buggy? Select your favourite car and smash your opponents.
Game Features :
Beat your AI opponents in "Race" mode or improve your driving skills and beat the clock in "Time Trial". You can also select "Practice" mode to drive freely just for fun. Share your best results on the Game Center leaderboard!
Try the game for free! You will get two locations "Parking Garage" and "Nevada Desert" and two cars "Savage" and "Razor" for free. Within the application you can buy additional cars and tracks to enhance your RC racing experience.
Buying "Bundle 1" (In-app purchase) you will get:
1 new off-road track "Sand Mine" with less bumps for really fast race
2 new on-road tracks "Basketball Arena" and "Mediterranean Village"
4 new vehicles "Storm", "Rally", "Maxx" and "Beast"
Ads removed
Additional Information :
Compatible with iPhone, iPad, and iPod touch.
Requires iOS 11.0 or later.
Size 134.6 MB
User Reviews :
The graphics are cool looking, and the controls handle better than most games, there are free cars and maps and is a great little app to pass the time.
Great game but needs more tracks and more cars
This game is dumb you have to buy all the rest of the maps and cars, I would be fun if you could earn it.
I drive a RC car and I bet I'll love the game!!!
Pretty decent game. Great kids racer game. Rc car physics are good, speed of th cars is good, controls handle better than most, music, graphics, etc., all qualify for at least 4 stars. And i was happy to pay th buck or two for th first bundle. Still, all together thats only 5 tracks, and 3 of em are pretty short. U can change number of laps, but still.. And th computer racers always post the same times every time, regardless of which class you choose. For me, i got this for my 3 yr old nephew and he loves it. Controls are easy enough for him. And i enjoyed playing myself, but after an hour or two i had placed first on every track with more than half th cars. So theres not much to really keep u going, at least for a 'grown up' video game. Maybe th developers just forgot to finish it? It could be a really fun racer tho, if there was more to it. And who knows when theyll add more to it. If u dont have a kid thats gonna be playing this, id say its not worth th buck, or 2?, for th couple hours of play. But u do get 2 tracks and 2 cars for free, so u can decide for urself. Th adds on free version arent bad, just a bar at th top
This game is just a blast to play. I really don't understand the bad reviews. I play it on my iPad 2 and it works perfect. Raced hundreds of times and it's always worked flawlessly. You steer by tilting you iPad, kind of like a steering wheel. The free version has 1 very long sand track and 1 very short concrete basement floor track. Has 3 cars with different handling characteristics. Paid version (1.99) adds 3 more tracks and 5 more cars. The physics of the track and cars is the best I have ever played on any device. The cars crash, roll, get tossed from collisions, slide around corners. You can even wreck it inoperable if you crash it head on. I just wish they would offer more tracks. I would gladly pay a few bucks more to have even more racing fun. It's in my top 5 favorite games I've ever played on my iPad. After awhile it well get pretty easy to beat so I just give the other three cars a head start. Adjust the steering to make it harder.
This game is perfect for passing time. There is no objective but to win so it is very simple and great for young kids. One thing I don't like about the game is the jumping off of ramp like shapes. The cars go like 3 feet far and hit the ground. I own a real hobby grade RC cars, and the cars in this game are nothing like them. In this game they bottom out and start to tumble, making it virtually impossible to land all jumps. I wish they would also add a new 'bashing mode' where you could be in an area with big ramps and mud pits. Even without these features the game is still definitely worth the money and recommend especially to parents with young kids. Even I as a guy in my 30s enjoys it.
Get Nitro RC from App Store
What is your opinion about Nitro RC
Get more free apps & games daily
Subscribe to our mailing list and get free apps & games daily to your email inbox.
Thank you for subscribing.
Something went wrong.