(Game) MONOLISK
 iphone games download free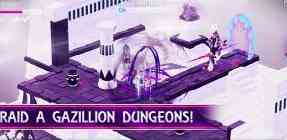 Game Description :
Raid a gazillion handcrafted dungeons, collect loot and creature cards and build your own dungeons for others!
MONOLISK is a fantasy mobile ARPG, CCG and dungeon builder in a single package. Build dungeons, share them with your follo
Game Features :
Clear heaps of dungeons in an online hack 'n' slash RPG
Collect cards with equipment, abilities, creatures and environments
Customize your 5 heroes with various playstyles
Design unique levels for your friends and followers
Craft new cards and expand your collection
Tell your own stories
Help others rebuild the shattered world of MONOLISK!
wers, gear up your heroes and clear levels built by your friends!
Additional Information :
Compatible with iPhone, iPad, and iPod touch.
Requires iOS 9.0 or later.
Size 292.5 MB
User Reviews :
If I had access to health fountains which would be a strong heal one use structure it would encourage characters to engage in large arena style fights and help them survive greater traps. I could also use them as bait for an injured hero for example if there was a hidden trapdoor that I could put on the walkway in front of it and transport them to a very dangerous place that would be quite a surprise:) Also I have been playing this game for hours but I have yet to earn any traps or environments dangers. I have seen this reflected in dungeons I challenged as I hardly ever see explosive barrels and I haven't seen any environmental dangers at all!! Maybe if every new player started with a beginner pack that had just a couple of random things like this. It would make dungeons more exciting to play and build. I believe that this would lead to more people being willing to purchase cards due to experiencing more potential map variety. Thank you for listening
First off, I love this game. I've been hooked for at least two weeks, and CANNOT STOP. I love the way it presents the "make-your-own-dungeon" element, and I like the golden card element as well. But in order to progress and adapt your heroes, you need new cards, and to get new cards, you need more Orbs, the in-game currency. To get this you can 1. Finish dungeons for amounts ranging from one to twenty in most occasions or 2. Complete missions to get 400 to 1,000. You need 1,000 Orbs to get a card pack, and a mission only comes up every 24 hours. Get my drift? I feel that the game would be improved with an increase to the frequency of card attainment, which could result from an increase in Orb attainment or a lowering of card cost. The devs could even add a whole new way to GET Orbs. All just my opinion, but I hope it's taken into account in future updates. I do realize that this is an ad-free game, and appreciate the free-to-play aspect as well. Great game, and thanks for making it!
If you like dungeon crawl games, dungeons and dragons, and/or building and creation games, than you'll love monolisk. There are no ads or subscriptions, but there are pretty large purchases available. Nothing necessary to progressing in the game. You can only make one dungeon(shard) per realm card, And it's difficult to get new ones, so you're limited in the creation part of the game. You can also make campaigns with at least five shards, and there are signs that display whatever text you type in. There are six characters, each one a different class, including: Warrior, hunter, shadow, mage, and artificer. Combat is not hard, if you tap a monster or breakable object, your character automatically walks over and attacks, and when its done with one, it goes to the next. There are spells and special attacks that are available after you have hit monsters and objects certain number of times, and they activate after you tap it.
Get MONOLISK from App Store
What is your opinion about MONOLISK
Get more free apps & games daily
Subscribe to our mailing list and get free apps & games daily to your email inbox.
Thank you for subscribing.
Something went wrong.