(Game) MMX Hill Dash – OffRoad Racing
free apps games for iphone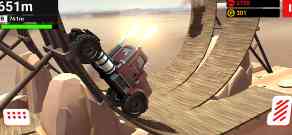 Game Description :
100s of race challenges – the most addictive & FUN physics based driving game!
Race to the finish line over a multitude of racing tracks with hazards, hill climbs, jumps, loops, bridges and ramps in this crazy MMX racing game.
With top physics, fun crash scenarios, and challenging gameplay, you won't be able to stop playing!
Game Features :
Complete challenging racing trials
Upgrade your trucks
Race your friends in 4WD race offs
Climb to the top and be the best MMX driver ever
A truck load of custom upgrades, tracks and hard courses
Loads of top trucks to race
Upgrades! Speed, Grip, Stability and Air Tilt
Racing Tracks! City, Desert, Snow, Volcano, Big Air
Trucks! The Micro, The Monster, The Classic, The Buggy, The Big Rig, The APC, The Tank, The JoyRider, The Bouncer, The LowRider, The Trophy Truck, The Racer, The Beast
MMX Hill Dash is the explosive follow up to the massively successful MMX Racing.
Download for FREE today and start playing!
Our Privacy Policy: www.hutchgames.com/privacy/
Our Terms of Service: www.hutchgames.com/terms-of-service/
Additional Information :
Here's the magic of this game—it took us back to our childhood. The hours we spent crouched on the floor, zooming toy cars down plastic tracks, trying for crazy jumps. MMX Hill Dash inspires that same "doh, one more time!" dedication as you guide monster trucks through tricky courses, finessing the physics-based gameplay to finally achieve perfection. You'll fist-pump in triumph when you manage it—well, we did, anyways.
Overall, I'm finding more variety in map styles than Hill Climb Racing 2. For the online races it's either smooth ground, a bunch of divots, or insane hills. While in this game there's the exact same ideas along with: stairs, collapsing bridges, movable object that form new pathways, jumps with zero ground in between. As well as resistances such as object being thrown at you, or giant fans that can flip you over. There are also more modes than HCR2, there's marathon, speed run, elite, and normal. While HCR2 has either online races which are either too short or insanely amplified and kinda stupid hard when using lower levels. While I now I've seen other people getting mad at the physics of the game, it does say "FUN" in the description so it's all about your point of view. The only place where HCR2 is better is the fact that it's the sequel to a great game so
I'm not sure which aspect is more frustrating, the inconsistent "physics" or the utterly ridiculous amount of ads. As far as the physics go, I can run the same map four times, exactly the same way, pedal to the metal and when I encounter the first obstacle sometimes I'll bounce up onto the rear wheels, sometimes I'll land on the front wheels, and occasionally I'll land upside down. Don't get me started on bouncing off of some drawbridges after 1000m of an 1100m course, nearly to the end of your 56th attempt to beat it and flipping over uncontrollably to explode when you've simply bounced backwards the other 55 times.Then come the ads. Yes, I get that this is a free game funded by ads. Yes, you can opt in to ads to get free upgrades or gold. But when after every 3-4 attempts at a track you throw in a 30 second ad that can't be skipped? It wouldn't be so bad if it were every 5 minutes or so, but the fact is when you're exploding every 32 seconds due to the aforementioned inconsistent "physics" this game ends up being an exercise in futility and has nearly resulted in a flying iPhone on multiple occasions.If the physics were more consistent and the ads slightly less frequent, this had the makings to be a great game. Until then, my iPhone is at risk of being thrown at least once a day.
Get MMX Hill Dash from App Store
What is your opinion about MMX Hill Dash
Get more free apps & games daily
Subscribe to our mailing list and get free apps & games daily to your email inbox.
Thank you for subscribing.
Something went wrong.