(Game) King of Steering
iphone games download free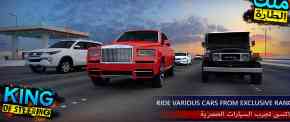 Game Description :
Play King of Steering and become a Multiplayer drift Legend!
No need to look for adventure, King of Steering has multiple control system which will ensure fun and excitement to user, drifting is more fun and consistent like never before with the realistic car controls and sfx.
Game Features :
Update the car like never before with all new paint system that lets you customise body and glass color choosing from infinite color combination possible to make and look your car as you wish.
A new set of decals like Graffiti Text , Pattern , Sticker , Flags, Vinyl Stripe, Camel etc will serve you to make look your car unique and we will keep adding new decals to keep your fashion wardrobe fresh and exclusive.
Not only visual upgrade try our unique tyre configuration in garage like never before in a mobile game giving and ultimate experience of customization.
Gameplay
Play the game with more than 30 awesome realistic 3D cars with amazing drift in various mode.
Try to stay away from the police ! Stop at the check post if ran away form their, get ready police chase is on and it's fun though.
Connect in the multiplayer to drift it with friends. Create your own network room or join existing.
Gameplay Environment
Try out 3 different environment with a unique experience in each like never before.
Check out City , Highway and all new "TAFGER" environment in both multiplayer and single player mode.
Also select whether you like to play in bright sunny day or dark night, it should be rainy or a beautiful evening to drift on.
KOS features unique drift modes which will take you in whole new level of drift and gameplay.
Drift Modes
Arabic Drift
Burnout
Classic
Offroad
Sports
Gameplay Controls
Accelerometer (gyroscope) or touch steering mode.
Slider or touch throttle.
Automatic or manual transmission.
Not only car customization you can now also select player and customise its outfit to matching environment or of your choice. To try out variety of guns check out police outfit. All guns are unlocked at start to use for one time.
TROUBLESHOOTING:
If the game doesn't start up, runs slowly or crashes, please get in touch and we'll do our best to help.
If you have any questions contact us through our Support system: umxstudio.co/en#contact-us or via e-mail at support[at]umxstudio.co
Additional Information :
Compatible with iPhone, iPad, and iPod touch.
Requires iOS 9.3 or later.
Size 1.3 GB
User Reviews :
Can y'all add these cars in the next update and read what the people are saying in English
Ok first think y'all can add in the next update is a GT Mustang F150 Jeep Wrangler Tesla model x and a Shelby Mustang and a Ford Explorer police interceptor and some more guns and a map with a highway with bridges and a semi truck and a Nissan skyline and a Houses and also if you crash in the game and make the car crashed realistic only if you crash your car and another car I want in the game is a Dodge Challenger dodge demon a dodge hellcat/hellcat and a Dodge Charger police cruiser
Developer Response ,
of course, we read all the comments ..

and we will try to add your suggestions in the future ..
Get King of Steering from App Store
What is your opinion about King of Steering
Get more free apps & games daily
Subscribe to our mailing list and get free apps & games daily to your email inbox.
Thank you for subscribing.
Something went wrong.