(Game) Jet Car Stunts
iphone games download free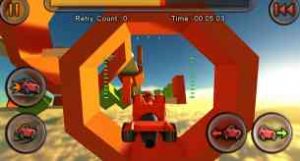 Game Description :
The free version of the award winning Jet Car Stunts, with All New Tracks!
Apple: Best Games of 2009 —- AppModo: "truly one of the best iPhone games" —- AppSpy: "poetry in motion"
Jet Car Stunts is an award winning, over the top, adrenaline rush, 3D driving game, with massive jumps, mid-air hoops, floating platforms, spiral roadways and outlandish maneuvers in impossible environments. The original levels, tight controls and fast, smooth, addictive game play has landed Jet Car Stunts on many "Best of 2009" lists.
Game Features :
Rave Reviews
(5/5) AppSmile: one of the best iDevice games we've ever played
(5/5) TouchGen: I've played hundreds of games on my iPhone, and I can honestly say that this is the most fun I've had, thus far!
(10/10) PocketFullOfApps: An absolute must have game!
(5/5) apphunter.net – The controls are easy to master and the visual effects are simply stunning
(4.6/5) AppVee: I recommend it
(8/10) PocketGamer.co.uk: amazingly fun
(9/10) IGN – excellent controls, a great drift mechanic – an amazing iPhone racer that you should absolutely buy
(5/5) TouchArcade: Jet Car Stunts has really set the bar high in both visual appeal and handling
(4/4) SlideToPlay: a thrill ride
(5/5) AppAdvice: this one is a tight gripping, brow sweating, stunt filled marathon that you'll enjoy every minute of – Jet Car Stuns is one experience everyone idevice owner should have
(4.6/5) AppSpy: poetry in motion
(4.5/5) iphoneachievements.org: simply magnificent
(9.99/10) IpwnAge: the BEST app I've ever reviewed
TheAppera: It's a great game, one of my personal favorites on iPhone
AppModo: truly one of the best iPhone games
Accolades
Apple: Best Games of 2009
TouchGen: Biggest Surprise 2009
AppAdvice: #5 in Top 100 iPhone Games through 2009
PocketGamer.co.uk: Top 10 best iPhone games of 2009
TouchArcade: Best iPhone Games November 2009
TouchArcade: Best iPod Touch and iPhone Games: 2009
IGN.COM: Game of the Month: November 2009
IGN.COM Editors Choice Award
IGN.COM: #8 in The Top 25 iPhone Games
BestAppEver Awards: 3rd Place award for Best Racing Game
OpenFeint Gold: Awarded to only the best games using OpenFeint for online connectivity.
PLAY MODES
Platforming – The challenge is simple, just get to the end. Each track is more challenging then the last.
Time Trial – Race to reach the next check point before the time runs out. Beat your best time.
Additional Information :
Compatible with iPhone, iPad, and iPod touch.
Requires iOS 8.0 or later.
Size 15.6 MB
User Reviews :
This game is, to steal the previous reviewer's term, epic. The driving is smooth and simple, drifting is easy and satisfying, the afterburner feature is even better than Asphalt 5's nitro, and the fact that you can take to the skies and use airbraking is just icing on the cake. The tracks are, simply put, gorgeous, and the graphics are amazing. This game certainly deserves the OpenFeint Gold award. The lite version is a no-brainer, perhaps buy when(if) some multiplayer/customization features come out. But still, one of my favorite games. Simply awesome.
All I want to say is that this gam has been around for years in my child hood. I'm happy because this game was a good time waster for me it brought back memory's and each level is always different and fun! Just wanted to say that and if you can make the $2.00 that would be the most amazing thing. Cya
So I love this game sooo much and it's kinda hard but…it's still the best game in the entire world I just love it it's cool and addicting just I have nothing else to say so bye bye
Get Jet Car Stunts from App Store
What is your opinion about Jet Car Stunts
Get more free apps & games daily
Subscribe to our mailing list and get free apps & games daily to your email inbox.
Thank you for subscribing.
Something went wrong.