(Game) Jet Car Stunts 2
iphone games download free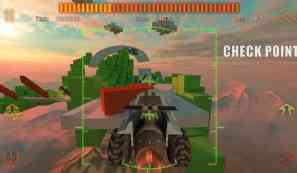 Game Description :
Sequel to the award winning Jet Car Stunts.
WARNING: This game will challenge you.
Crazy stunt driving on outlandish courses.
Insane jumps.
Ludicrous speeds.
Manic car handling.
Outrageous jet physics.
Game Features :
120 levels, 3 difficulties each. (The First 10 are free)
7 cars with varied handling.
4 Game modes.
Level creation and sharing (Purchase required for saving and sharing)
Global leaderboards with replays.
Friend challenges.
Controller support
Note: Using non-app store apps with JCS2 may break JCS2, causing it to crash every time on start up.
In-App Purchases: JCS2 has flexible options, either buy all in one purchase, or pay just for what you want.
Additional Information :
Compatible with iPhone, iPad, and iPod touch.
Requires iOS 6.0 or later.
Size 51.5 MB
User Reviews :
The original Jet Car Stunts hit the App Store in 2009, bringing with it a refreshing blend of bite-sized racing and boosting challenges. This long-awaited sequel packs an even greater variety of trials, a huge selection of jet cars, and a full-featured level creator. Earning gold on each challenge is a Herculean task, but whether you're racing, flying, or careening off jumps, this incredible follow-up will keep you engrossed and entertained.
Well, the camera is broken. The game is completely unplayable because of this one problem. There is not a single way around it. I read the other reviews and this is not a problem strictly on my device. Please fix this problem!! I miss playing this game so please fix it. If it were not unplayable it would be a 5 star app.
First, for those having steering issues, simply flip your device 180 degrees, wait for the game to flip, then flip the device back.Overall, I absolutely love this game. I have had it for many years and appreciate the fact that the developers have not ruined it with adds (as many are these days). The gameplay is simple, but never gets old. The expansion packs are well worth the money, though I do wish more would be created.
Get Jet Car Stunts 2 from App Store
What is your opinion about Jet Car Stunts 2
Get more free apps & games daily
Subscribe to our mailing list and get free apps & games daily to your email inbox.
Thank you for subscribing.
Something went wrong.