(App) Interval Timer – HIIT Workouts
iphone apps for free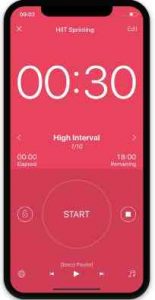 App Description :
Free and reliable. Perfect for use at home, at the track or in the gym.
We're proud to introduce this handy little app that helps you keep track of your work and rest periods during workouts. Whether your into cycling, running, lifting weights, exercise, workout, stretching, boxing, MMA or HIT, this interval timer will prove to be an invaluable asset to you.
Running foreground, background or with device locked, this reliable app allows you specify an overall time as well as program High/Low intensity interval and rest time between sets.
Key Features:
Customizable sets, high/low intensity interval and rest for your own need
Retina display, iOS4 and multitasking
Continue to run even when screen is locked
Play your song or playlist during your workout
Post your workout to Facebook or Twitter
Save settings as templates
App Features :
Number of Sets
Countdown Time
Set Time
Low Interval time
High Interval time
Rest Time
First Interval (low or high)
Sound Volume
Timer Sounds
Auto Lock
Vibrate
Pause during Rest
Playlist
New Each Set
Additional Information :
Compatible with iPhone, iPad, and iPod touch.
Requires iOS 9.3 or later.
Size 45.1 MB
User Reviews :
I've used several different timing apps and they all had the same flaw, no ability to save a routine for continued/repeat use. This app makes it easy to set different timing schedules for those who workout and need different rest/routine times. I also like that it gives you the ability to see/graph your workout times in a monthly/weekly format. (Good to have to keep track of whether or not your "skipping workouts)Unlike some of the other people who have posted I've never experienced the app freeze and I use it every day for 3 different types of workouts. (Maybe it conflicts with their other apps, or they have low memory?)Like Ron Popeil says "Set it, and forget it"
I have used this app for at least five years. It's my second favorite workout timer but my favorite stopped updating about five years ago and Apple pulled it from my devices for that reason. I started using this app when my fave stopped working right.The main thing I'd like improved in this app: when I am working out with a continuous timer but need to take a break or transition to a new exercise, a second or two may pass before I press pause after the timer sounds the end of the work period. When I hit the back button, it doesn't return to the top of that period but goes back more than a minute (for example, the time is at 1:06 but returns to 0:00 instead of 1:00). This also subtracts a minute from my workout total. I cope by hitting both back and forward.I also find it challenging to program complex workouts with rests and multiple rounds and getting that to equal a set amount of time (e.g., five rounds of exercises including sets to equal a 60 minute workout) but that could be my personal math challenges.
I have searched and used and searched and used and searched and used for a very long time and always was disappointed. I like to do hiit at the gym after lifting weights and I don't have Bluetooth headphones so I have to tuck my phone in my bra. All the others wouldn't keep going if I went out of the app. So I couldn't close my phone and when it was in my bra it would keep pausing it, closing and I had to keep restarting the timer. Super easy to use and get the timer and rounds going and I love seeing my hard work on the screen throughout the week
Get Interval Timer from App Store
What is your opinion about Interval Timer
Get more free apps & games daily
Subscribe to our mailing list and get free apps & games daily to your email inbox.
Thank you for subscribing.
Something went wrong.