(Game) Hovercraft – Build Fly Retry
iphone games for free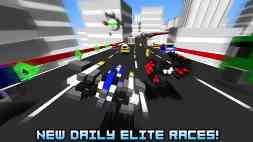 Game Description :
Hovercraft is the #1 hover action simulation, arcade racing, custom vehicle building, totally addicting, physics based, breakout hit game of the year!
Game Features :
Build a completely custom Hovercraft in a simple, yet powerful editor
Blast your way down an urban highway in the sky
Dodge and weave through traffic at insane speeds
Cause crazy chain reaction crashes and watch Hovercrafts go flying!
Experience physics based hovering, collision and destruction
Earn huge rewards for piloting your Hovercraft skillfully, and dangerously!
Collect and win over 80 unique Hovercrafts, or create your own fleet from scratch
I love my Hovercrafts more than my dog. – Margaret from California
I can't stop playing Hovercraft! It's the best game I've played since… ever. – Noah from New Zealand
You can race them? I just build the craziest Hovercrafts I can imagine and watch them wobble over the pavement! – Spark from New York
Follow us!
www.facebook.com/HovercraftGame
twitter.com/HovercraftGame
Please note this app is not compatible with iPhone 4 or iPod Touch 4.
Additional Information :
Compatible with iPhone, iPad, and iPod touch.
Requires iOS 8.0 or later.
Size 124.3 MB
User Reviews :
I love games that let you build and create whatever you want, then actually use said creation for something. Being able to build a hovercraft lets you use your own designs and ideas, while still forcing you to think about weight distribution, symmetry, etc. The one thing most other reviews complain about is the ads. And honestly, they aren't that bad. Every time you select a different ship, there is an ad which can be skipped after a few seconds. Each time your ship is destroyed and respawns, there is another. However, ads don't appear while you are piloting your craft, contrary to what others say, so they never impede on you playing. Definitely give this game a try.
This game is VERY fun and addicting, with a very good style of gameplay. The fact you can make your own hovercraft is amazing, and it's easy to do. I just have a couple of recommendations to make it even better!1. The more the close-call thingy multiplies by, you should make it so the coin's value multiply as well.2. Change the name of the app. I must say, the game is very good, but the name isn't. The name is kinda bland. Maybe change it to "Hoverwrath" or something like that.3. Add multiple levels. Like, different designs. One could be in a more high-tech city, another one in a mall, you decide.And those are my thoughts of the game! If you consider doing one of these things, then I will give it five stars. Thanks for reading!
I like this game it's so fun and addicting you can choose what hover car you make I love turtles so I made a "hover turtle"I made a "hover turtle"because I love turtles and hover cars so put that together and boom "hover turtle"also I like upgrading my "hover turtle" and you can upgrade stuff like speed, handling etc…it's so fun but it also has a lot of adds and it's a major problem with a add popping up every time you crash or when your done with making a hover craft also sum times wen you click the screen faster then the add can pop up then your hovercraft is going to hover without you and then you CRASH that's so unfair please fix this it's really getting on my nerves overall this is a great game and I like it just fix those problems please
Get Hovercraft from App Store
What is your opinion about Hovercraft
Get more free apps & games daily
Subscribe to our mailing list and get free apps & games daily to your email inbox.
Thank you for subscribing.
Something went wrong.