(Game) Hovercraft Takedown
iphone games for free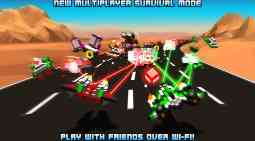 Game Description :
Hovercraft: Takedown is the #1 combat racing, custom vehicle building, totally addicting, physics based, action game of the year!
Thugs have taken over the the Hovercraft highways! Build your custom Hovercraft. Arm it to the teeth with machine guns, lasers, and rockets. Then take to the streets and rack up those Takedowns!
Game Features :
Build a completely custom Hovercraft and arm it with guns, lasers, missiles, and more!
Play with friends over Wi-Fi and fight through Multiplayer Survival Mode!
Smash enemy vehicles to pieces and cause crazy chain reaction explosions!
Equip up to 6 weapons simultaneously, and customize your loadout from thousands of possible combinations
Long range sniper cannons? 360 degree tracking lasers? Triple fire homing rockets? How about all of them, at the same time!
Blast your way through gorgeous rocky mountain passes at breakneck speeds
Counter enemy weapons with dozens of unique power ups and weapon types
Upgrade your Hovercraft squadron and become even more powerful
Endless loot! Collect & win tons of rare, epic, and legendary consumables & gear from card packs
Real-time damage models affect all of your Hovercraft's systems, from weapons to thrusters
Experience insane physics-based combat racing, like nothing you've played before!
I got 35 Takedowns! What's a Takedown?… – Margaret from California
Those #@$% laser trucks keep blowing up my power core! – Noah from New Zealand
My custom Hovercraft is a flying cat with laser eyes and machine gun paws. – Spark from New York
FOLLOW US
www.facebook.com/hovercraftgame
twitter.com/HovercraftGame
www.highscorehero.com/
Please note this app is not compatible with iPhone 4 or iPod Touch 4.
Additional Information :
Compatible with iPhone, iPad, and iPod touch. Apple TV.
Requires iOS 8.0 or later.
Size 144.4 MB
User Reviews :
I enjoy the developers' frequent updates to the game. New hovercraft types? Check. New kinds of upgrades? Also there. New block types! Why even ask. If you are tired of playing, you can switch to their construction mode. And of course, you are free to get coin updates without having to spend any $$$ by liking on Social Media, using your existing coins to purchase upgrade packs (minus the coin packs, themselves which are a waste of money; it's amply possible to earn the coins on one's own.)
This game is fun! The handling is better than the Battle Arena game, & this game makes me want to keep playing more. The only thing is the weapons ought to be able to destroy the enemy's oncoming destructive weapons. You also should be able to pick more than one defensive/pickup battle add-on. Good work though; it'd be better if you would fix those.One more thing. I think it's great that your hovercraft games work with my Mad Catz Bluetooth controller. It's too bad ALL game developers don't make their games to work that way. Some, like War Robots, start out working with Bluetooth controllers, but then they do an update & the controller no longer works. What's up with that?You guys know how to do it the right way.
First off this game is very fun and addicting.. love the art style and it all comes together very nicely.. the few things i would have to criticize is the lack of unique bosses.. maybe different sceneries and i agree with previous reviewers.. weapons could be upgradeable. I think if there was an activate button for your power ups instead of just starting off with them would make the game a whole lot more dynamic and fun. Pit stops where you can repair your vehicle would also be a nice addition. All in all, love the game, and would love to keep playing and see new updates come
Get Hovercraft Takedown from App Store
What is your opinion about Hovercraft Takedown
Get more free apps & games daily
Subscribe to our mailing list and get free apps & games daily to your email inbox.
Thank you for subscribing.
Something went wrong.